The future is bright for California's carbon market as it works to tighten aggressively and rapidly reduce emissions. Reforms in the next year will likely bring carbon allowances into deficit territory by the end of the decade, creating opportunity for investors now.
California's carbon allowances market traded at $44.5 billion last year. This makes it the second-largest carbon market globally behind the EU, according to KraneShares' Climate Market Now blog. Recent commitments from California's regulatory agency of more aggressive climate targets mean that supply tightening lies on the horizon.
An increasingly dwindling supply of allowances alongside annual price increases of 5% (plus inflation) for the floor for allowance auctions creates a compelling narrative for pricing pressures. While final reforms aren't likely until next year, the workshop hosted last month by the California Air Resources Board (CARB) gave a clear window into the desire for more aggressive tightening measures.
Estimates put the reduction of the annual emission cap between 2025–2030 at 15%, driven by a faster rate of reduction as well as reducing banked allowances. Such reductions would result in supply deficits in the latter half of the decade.
"The market is expected to enter a tightening mode starting around 2025, getting very close to being in a deficit by the end of the decade," KraneShares wrote. "This shift is expected to add appreciation pressure on prices to balance supply and demand in the system."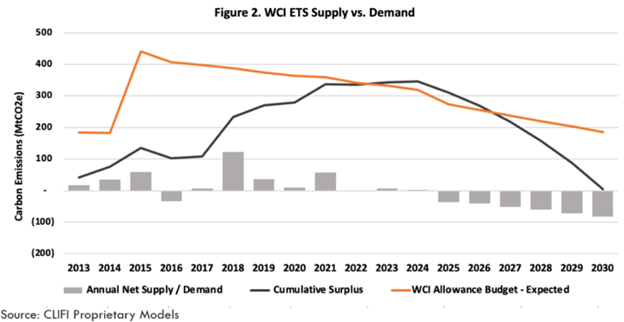 The announcement of regulatory tightening, though likely not finalized until next year, carried the market higher in the first half. California carbon allowances rose 3% in the first quarter and 6% in the second quarter.
"The bulk of the action, however, is yet to come once the details of the tightening reforms start coming out later this year," said KraneShares.
See also: A Guide to Understanding the California Carbon Market
---
Content continues below advertisement
KCCA Captures Positive Pricing Pressures for California's Carbon Market
The KraneShares California Carbon Allowance ETF (KCCA ) offers targeted exposure to the joint California and Quebec carbon allowance markets. It will benefit from California's aggressive push to reduce emissions alongside the increasing demand for allowances within the market. The fund is up 14.94% YTD, gaining over 5% in trading last week.
KCCA remains solidly in "buy" territory. The fund remains significantly elevated above both its 50-day SMA and 200-day SMA.
This market is one of the fastest-growing carbon allowance programs worldwide. Its benchmark is the IHS Markit Carbon CCA Index. The index includes up to 15% of the carbon credits from Quebec's market.
KCCA's index measures a portfolio of futures contracts on carbon credits issued by the CCA. The index only includes futures with a maturity in December in the next year or two. The fund also uses a wholly owned subsidiary in the Cayman Islands, which makes a K-1 unnecessary for taxes.
KCCA carries an expense ratio of 0.78%.