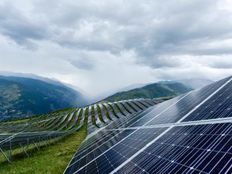 The U.S. and Europe are among the world leaders when it comes to adoption of renewable energy, but when it comes to clean technology dominance, China reigns supreme.
The International Energy Agency (IEA) highlighted as much in its recently published Energy Technology Perspectives 2023 report, potentially underscoring long-ranging opportunity with exchange traded funds such as the (KGRN B-).
The IEA report discussed the point that just two decades ago, clean technologies and renewable energy concepts were in their infancy. Today, those concepts are maturing but still maintaining a disruptive profile, and that could bode well for the long-term KGRN investment thesis.
"Countries around the world are stepping up efforts to expand clean energy technology manufacturing with the overlapping aims of advancing net zero transitions, strengthening energy security and competing in the new global energy economy," noted the IEA. "The current global energy crisis is a pivotal moment for clean energy transitions worldwide, driving a wave of investment that is set to flow into a range of industries over the coming years. In this context, developing secure, resilient and sustainable supply chains for clean energy is vital."
Specific to China — the world's second-largest economy — the country's renewable energy growth could surge more than 40% over the next five years, further painting a potentially alluring picture of KGRN for investors.
Add to that, while China is often vilified for its control over rare earths minerals essential in the production of a variety of clean technologies, the IEA noted that the country has played a pivotal role in pushing clean tech prices lower, which is a positive for renewable energy producers and adoption.
"China's investment in clean energy supply chains has been instrumental in bringing down costs worldwide for key technologies, with multiple benefits for clean energy transitions. At the same time, the level of geographical concentration in global supply chains also creates potential challenges that governments need to address," added the IEA.
The ability of KGRN member firms to contain costs while enhancing clean tech accessibility is all the more pertinent at a time when more countries are realizing that renewable energy is an effective avenue for bolstering energy and national security.
"The Inflation Reduction Act in the United States is a clear articulation of this, but there is also the Fit for 55 package and REPowerEU plan in the European Union, Japan's Green Transformation programme, the Production Linked Incentive scheme in India that encourages manufacturing of solar PV and batteries, and China is working to meet and even exceed the goals of its latest Five-Year-Plan," concluded the IEA.
For more news, information, and analysis, visit the Climate Insights Channel.