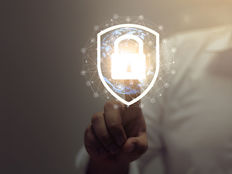 While stocks continue climbing higher on the back of robust animal spirits, it's logical that many investors are looking to growth fares, such as communication services and technology, but don't sleep on defensive groups.
For example, the Utilities Select Sector SPDR (XLU A), the largest utilities sector ETF, jumped 3.66% last week.
The utilities sector was one of last year's best-performing groups, underscoring the notion that many investors will embrace utilities stocks and ETFs during favorable interest rate environments. The Federal Reserve recently obliged by lowering interest rates last week for the second time this year and another rate cut is possible before the end of this year.
"Bond yields and high-dividend sectors such as utilities move inversely — investors hunt for alternative sources of yield in defensive trades such as utilities and real estate investment trusts," according to CNBC.
A Good Deal
Investors looking for a cost-effective utilities ETF can consider the Fidelity MSCI Utilities Index ETF (FUTY ). Like other Fidelity sector ETFs, FUTY is the least expensive fund in its respective category, charging just 0.084% per year, or $8.40 on a $10,000 investment.
Investors who are looking for companies to invest in that carry minimal risk will often consider utility stocks. Utility companies typically comprise the most fundamental necessities, such as food, water, and shelter, or are closely related to the energy required to refrigerate food, heat up water and light up a house.
Many investors may be skittish about traditional utilities due to the disruption being caused by renewable energy. The concern is relevant, but funds such as FUTY and XLU can actually benefit from increased renewable adoption.
Related: Plenty of Catalysts For This Cost-Effective Tech ETF
"With the increased adoption of renewable energy generation, the earnings growth of the utilities industry is positioned to expand at a higher rate than the sector historically has seen," said Fidelity sector portfolio manager Douglas Simmons in a recent note. "Federal and state regulation remains supportive, as governments continue to encourage companies to invest in renewable energy, and the public appears willing to pay for these more economically sound and greener options."
There is more good news. While the utilities are broadly speaking, looking pricey, some of FUTY's marquee holdings remain attractive. FUTY jumped 3.78% last week and is higher by more than 24% over the past 12 months.
This article originally appeared on ETFTrends.com.
---
Content continues below advertisement