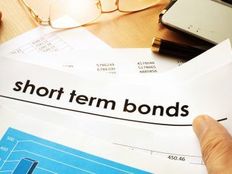 Still sticking to your New Year's resolutions? The markets sure have — , and there's still time to resolve to join in. For both an investor who's been amped to get back to their bonds since the Fed started its most recent rate hike scheme , and a recent convert, it's still worth looking at adding more short-term bond exposure accessible in an active short-term bonds ETF.
Short-term bonds have seen their returns rise over the last month compared to one-year returns, with the category returning 16 basis points over one month compared to -260, according to YCharts. What's more, the category has taken on a quite respectable amount of net inflows over one month, with $616 million coming into the category.
The big question for the category, and for bonds overall, is the how investors assess the Fed's continued hawkish mentality. If the central bank follows through on its plans to keep raising rates towards a terminal rate between , shorter maturities may prove more appealing compared to their longer-lasting siblings.
While there are all sorts of options out there in shorter-term fixed income, an active short-term bond ETF like the may be one to watch given its relatively low fee. Charging just 15 basis points for its active management, the strategy comes from the Avantis Investors brand at American Century Investments, which houses a number of interesting bond ETFs.
The active short-term bonds ETF targets investment-grade bonds from U.S. and non-U.S. issuers, giving it a broad remit from corporations as well as governments. The managers behind the strategy look to bonds with high returns based on factors like capital appreciation and expected income, categorizing them into groups based on credit rating, duration, and more. The ETF aims for a three-year average maturity.
Investors may already have parts of their bond sleeves set up for the new year, but there's a place for an active outlook like AVSF, which outperformed its FactSet segment average over the last three months, returning 1.6%. At just 15 basis points, it's on the low side for active strategies in terms of cost, and worth keeping an eye on in the next month or two.
For more news, information, and strategy, visit the .