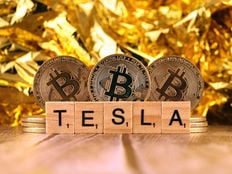 Recently, Tesla made waves in the financial markets by adding $1.5 billion worth of it Bitcoin to its balance sheet. That could be the start of something more substantial for the largest cryptocurrency as more companies follow suit.
Last month, Elon Musk announced that Tesla will accept the largest digital currency as a form of payment. It will also begin to accept gold and select bullion-backed exchange traded funds.
Tesla also said it bought $1.5 billion worth of Bitcoin, which will be accounted for on its balance sheet as goodwill. Having $1.5 billion worth of Bitcoin on hand will provide the automaker with sufficient liquidity to conduct business in the cryptocurrency.
Some financial pundits are suspicious of Tesla's move into Bitcoin however, as it represents an investment of a large percentage of its cash — over 7% of the more than $19 billion that the automaker possessed in cash and cash equivalents on hand at the end of 2020, according to its most recent filing.
Will More Businesses Follow Suit?
Much of this criticism may be merited, but some market observers see this as smart move.
"First, some companies—and especially tech companies—have piles of extra cash sitting on the balance sheet earning diminished returns in the current low-yield environment," writes WisdomTree analyst Jianing Wu. "Corporations are seeking alternatives to better invest their cash. Bitcoin, an asset historically uncorrelated to equities and bonds, not only has the potential to diversify a portfolio but also to generate significant returns. It appears that companies investing excess cash not required for operating liquidity have viewed taking on some volatility as warranted and invested a small portion to participate in the digital assets potential."
The Tesla announcement could be a boon for long-term Bitcoin adoption. Nevertheless, issues such as scalability must also be resolved before cryptos gain wider acceptance. Additionally, regulatory hurdles remain, including central banks in some countries outright banning transactions denominated in cryptocurrencies.
"Second, most companies that invested in bitcoin have business models related to it. Online payment companies such as Square adopted bitcoin to complement Square's bitcoin trading product (Cash App) and its blockchain technology teams (Square Crypto, Cryptocurrency Open Patent Alliance). It is a more natural decision when the company is already in the crypto space. Other examples include Tesla—it plans to accept bitcoin as payment to purchase products. Adding bitcoins to its balance sheet helps it build infrastructure to handle bitcoin transactions and to prepare for any accounting guidance changes," adds Wu.
Wu mentions Apple, Twitter, and Amazon as potential corporate adopters of Bitcoin.
For more news, information, and strategy, visit the Crypto Channel.
---
Content continues below advertisement