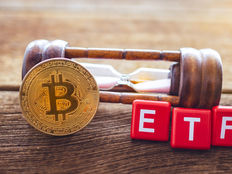 SEC Commissioner Hester Peirce said that the approval and launch of a bitcoin ETF is "overdue," according to a CNBC report last week.
According to Peirce, early concerns about market manipulation and liquidity no longer make sense in the context of the current Bitcoin market. According to Peirce, "the markets have matured quite a bit."
Bitcoin has become increasingly mainstream in the past few years, as large institutions and everyday retail investors have become increasingly involved in crypto markets. 
Most recently, Morgan Stanley purchased a massive number of Grayscale Bitcoin Trust shares, while Goldman Sachs has started trading Bitcoin futures
Even the blockchain technology underpinning crypto assets has grown in popularity. For example, Goldman Sachs recently began using JP Morgan's blockchain for repo trades. 
There is also growing support for state-issued digital dollars, both in the U.S. and globally. 
The price of Bitcoin and other crypto like Ethereum have continued to fluctuate drastically, and cryptocurrencies are still considered a highly volatile asset class. 
According to Peirce however, it's the SEC's job to make sure exchanges protect investors from fraud, not to make decisions on applications based on "the merits of the investment itself."
"People should make their own decisions: If people don't want to buy bitcoin because they think it's manipulated, they shouldn't buy bitcoin," Pierce told CNBC. 
For those who do want to buy Bitcoin, not approving an bitcoin ETF may leave thousands of investors utilizing more dangerous alternatives.  
Many initially thought that newly appointed SEC Chairman Gary Gensler might speed up the process of approving a Bitcoin ETF. Gensler previously taught classes on crypto at MIT and, during the Obama administration, created and implemented an oversight regime for the swaps market.
However, the SEC has delayed swift decision-making on any of the Bitcoin or crypto ETF currently on its desk, continually citing concerns about fraud and manipulation. 
Peirce says that the SEC has a "unique, heightened standard" when it comes to digital assets filings and that if digital assets were held to the same standards as other products, one or more Bitcoin ETFs would have already been approved. 
Peirce has argued for years that not approving crypto products means that "the Commission is engaging in merit regulation," something it is not "well positioned" to do. 
For more news, information, and strategy, visit the Crypto Channel.