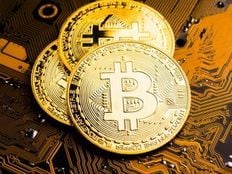 Bitcoin and blockchain are often used interchangeably, implying the concepts and investment cases are identical and joined at the hip. However, experienced investors know that this is not the case.
While blockchain originated in part as the digital ledger for crypto-based transaction, bitcoin's blockchain, also known as the timechain, is still small. Conversely, the usage for blockchain is expansive and extends well beyond digital currencies.
Translation: Bitcoin and blockchain are distinct concepts, each with their own underlying investment theses. Investors can access both, in equity-based fashion, via exchange traded funds such as the (BLKC ).
BLKC follows the Alerian Galaxy Global Blockchain Equity, Trusts and ETPs Index and is home to 57 components. Indeed, the ETF fits the bill as "crypto-correlated," but that benchmark also features exposure to "companies that are materially engaged in the development of blockchain technology," according to Invesco.
The diversity offered by BLKC is relevant because many blockchain enthusiasts are not rushing to use bitcoin. An informal poll conducted by Coin Telegraph reporter Joseph Hall at a recent European blockchain conference indicated that four of five blockchain users at the event weren't using bitcoin.
While that's a small sample size and just one event, those results confirm a point of which investors should be aware: Blockchain isn't dependent on bitcoin, and the former can provide ample investment opportunity regardless of bitcoin price fluctuations.
"Anyone with an old laptop can download the entirety of transactions in order to run a node. The network can scale to reach millions and soon billions of people with layers, and the Bitcoin blockchain has never been hacked. And yet at the blockchain conference, very few attendees said they run nodes or have transacted on Bitcoin," reported Hall.
At the sector level, blockchain has significant implications for groups such as financial services and healthcare. Healthcare providers can gain much-needed efficiencies through use of digital record keeping, which can be enhanced on the blockchain. That could serve the aim of reducing costs and potentially improving patient outcomes.
In the financial services world, blockchain can serve an array of functions, including being a foundation for peer-to-peer transactions, compliance and record keeping, and boosting money laundering protections. Those are robust usage cases with long runways for growth, and that could be good news for long-term BLKC investors.
VettaFi LLC ("VettaFi") is the index provider for BLKC, for which it receives an index licensing fee. However, BLKC is not issued, sponsored, endorsed or sold by VettaFi, and VettaFi has no obligation or liability in connection with the issuance, administration, marketing or trading of BLKC.
For more news, information, and analysis, visit the Crypto Channel.