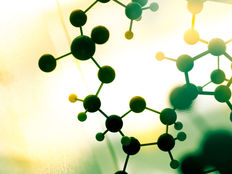 Disruptive Technology Channel
Molecular biology sounds like a daunting academic subject, but it also has some compelling investment implications. Those are accessible in the genomics space, and long-term investors might want to pay attention because if certain forecasts prove accurate, molecular biology's growth trajectory is likely to be exponential.
Among the various genomics exchange traded funds, the ARK Genomic Revolution Multi-Sector Fund (ARKG A-) is a prime idea to consider for molecular biology exposure due in part to ARKG's reputation for often being ahead of the healthcare advancements curve.
"According to ARK's research, the multi-omics revenue opportunity—including life science tools, basic and translational research, population health efforts, and molecular diagnostics—will scale at a 22% annual rate, from roughly $110 billion to $300 billion, during the next five years," says ARK Investment Management analyst Simon Barnett.
At the core of the molecular biology thesis is the leveraging of other capabilities, including genomics, transcriptome, and proteome. Further enhancing molecular biology as an investable concept is the fact that it intersects with other disruptive technologies, including artificial intelligence and software. For ARKG investors, that's potentially encouraging because some of the fund's holdings are already proving proficient at leveraging other innovative technologies.
"Created using next-generation sequencing (NGS), the 2003 human genome draft sequence was incomplete. Using a combination of long-read sequencing (LRS) methods, the Telomere-to-Telomere (T2T) Consortium finally published a complete human genome–discovering 200 million more base pairs (bps) of DNA and 1,500 new genes in the process," adds Barnett. "ARK believes this monumental achievement is a harbinger of novel life science tools and methods that will surface previously hidden biology."
Putting that into plain English, advancements in molecular biology could bring to life new healthcare concepts that have the potential to lead to better cost efficiencies in healthcare and improved patient outcomes. Technology is at the center of those objectives, including scientists' efforts to apply genomics concepts to discover new proteins.
"Genomics sequencing massively parallelized the analysis of DNA and RNA data, enabling a significant increase in research experiments," concludes Barnett. "Several new detection technologies could parallelize the detection and analysis of proteins. ARK estimates that scientists will be able to quantify more than half* the human plasma proteome in a single experiment by the end of 2022."
For more news, information, and strategy, visit the Disruptive Technology Channel.