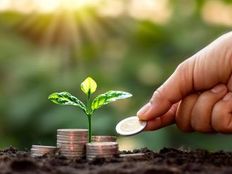 Good news for the fund industry: Investors are willing to incur higher expense ratios when it comes to accessing environmental, social, and governance (ESG) products. Good news for investors: They don't have to do that. Thanks to exchange traded funds and fee compression in that space, ESG ETFs are progressively sporting more tolerable, if not low expense ratios, and one of the leaders on that front is the )+.
"We find that investors are willing, on average, to pay 20 basis points more per annum for an investment in a fund with an ESG mandate as compared to an otherwise identical mutual fund without an ESG mandate, suggesting that investors as a group expect commensurately higher pre-fee, gross returns, either financial or non-financial, from an ESG mandate. Our point estimate has risen from 9 basis points in 2019 when our sample begins to as much as 28 basis points in 2022," according to the .
IQSU, which follows the IQ Candriam ESG US Equity Index, charges a mere 0.09% per year. That works out to just $9 on a $10,000 investment and is good for one of the lowest expense ratios among all domestically focused equity-based ESG ETFs. Translation: IQSU confirms that investors do not need to deal with the burden of higher fund fees simply to embrace ESG benefits.
"When we incorporate the possibility that investors are willing to accept lower financial returns in exchange for the psychic and societal benefits of ESG, when we consider that the holdings of ESG and non-ESG index funds overlap, when we measure the ESG ratings of these holdings, and when we focus on 401(k) participants who report being concerned about climate change or who work in industries with lower levels of emissions, we find that the implicit value that investors place on ESG stocks is higher still," added the NBER.
IQSU's status as a low-cost leader in the ESG ETF arena is meaningful because as 2022 proves, ESG is a style best suited for long-term holding periods. The longer an investor holds an ETF, the more important a low fee is.
IQSU's mid-cap stablemate, the , is also cost-effective relative to its category average with an annual fee of just 0.15%.