Energy Infrastructure Channel
Summary
Midstream/MLPs are using their free cash flow to increase their dividends and repurchase equity.
On a year-over-year basis, there are more constituents in the broad Alerian Midstream Energy Index (

AMNA

) that have raised their payouts compared to last year than maintained. Importantly, there have been six straight quarters with no dividend cuts.
Dividend growth is complementing already compelling yields for midstream/MLPs, particularly when compared to other income investments.
Continuing the trend of the last several quarters, midstream corporations and MLPs saw another solid quarter for dividends with several names increasing their payouts. Dividends for 4Q22 marked the sixth straight quarter with no dividend cuts across the Alerian energy infrastructure index family, and some companies grew their payouts by double-digit percentages. Energy infrastructure companies are expected to continue to generate significant free cash flow and return excess cash to equity holders through dividends and buybacks (read more). This note recaps 4Q22 dividends for Alerian midstream and MLP benchmark indexes and looks at their yields compared to other income investments.
4Q22 Dividends: Continued positive momentum into 2023.
A large portion of index constituents increased their dividend payments for 4Q22, maintaining the positive trend seen across the North American energy infrastructure space for several quarters now. Plains All American Pipeline (PAA/PAGP) led the way, announcing a 23.0% increase in their quarterly payout to $0.2675 per unit, consistent with its capital allocation plans announced in November (read more). Energy Transfer (ET) increased its quarterly distribution by 15.1% to $0.305 per unit, restoring its payout to where it was before the company cut in 2H20. EnLink Midstream (ENLC) increased its quarterly payout by 11.1% to $0.125 per unit. For context, the three dividend growth leaders in percentage terms cut their payouts in the past and are growing from a lowered base. Other notable examples include a 5.3% increase from Williams (WMB), a 3.2% increase from Enterprise Products Partners (EPD), and a 2.1% increase from ONEOK (OKE), which is the company's first dividend hike since January 2020. Altogether, ten energy infrastructure companies increased their dividends for 4Q22 relative to the prior quarter.
The pie charts below show the quarter-over-quarter changes to dividends for the Alerian Midstream Energy Index (AMNA), Alerian MLP Index (AMZ), and the Alerian MLP Infrastructure Index (AMZI) by comparing 4Q22 payouts to those made for 3Q22. To be clear, 4Q22 dividends refer to the dividends paid in 1Q23 based on operational performance in 4Q22.
---
Content continues below advertisement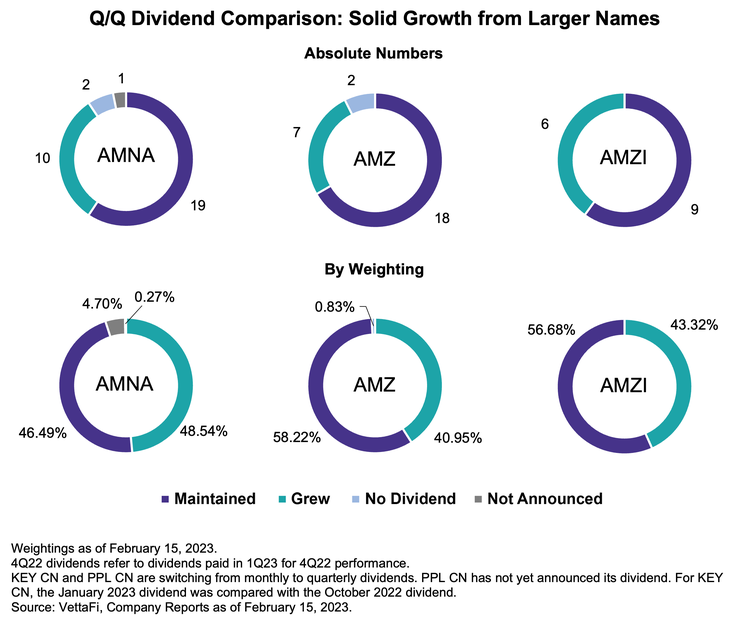 Most constituents have grown payouts year-over-year.
Looking at 4Q22 dividends compared to 4Q21 highlights the strong bias towards dividend growth in this space. For the broad benchmark AMNA, 86.9% of index by weighting grew payouts on a year-over-year basis, and the weight of growers in the MLP indexes AMZ and AMZI were 84.6% and 92.0%, respectively. Overall, while the growers tend to be the larger names that typically have a higher weighting in these indexes, there are more constituents that have grown their payouts in the last year than maintained.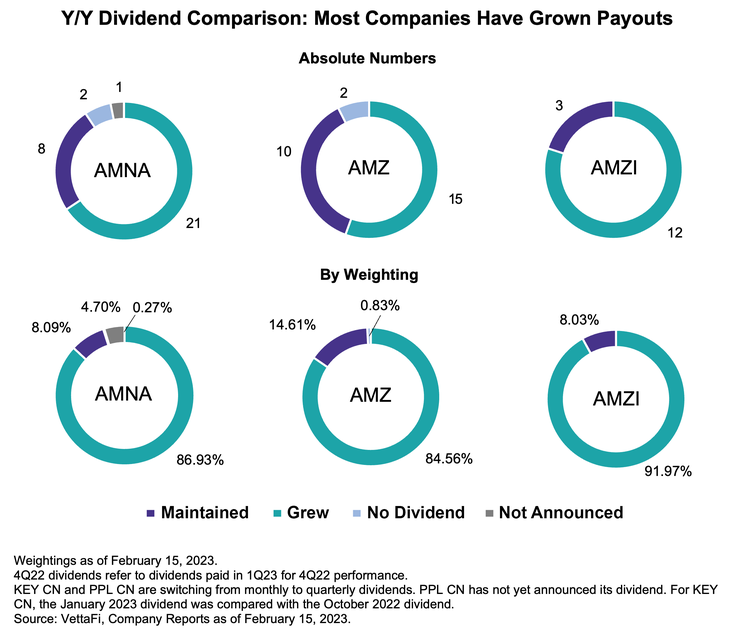 Midstream/MLP yields remain attractive compared to other income investments.
Energy infrastructure companies have typically offered more generous yields than other equity income investments, and dividend growth is enhancing already compelling income. Solid price performance over the last two years has complemented generous payouts (read more). Among income investments shown below, only high-yield bonds currently provide a yield greater than midstream/MLPs. Notably, Alerian's energy infrastructure indexes are heavily weighted toward higher quality investment-grade names (read more). For example, 93.0% of AMNA was investment-grade companies by weighting at year-end 2022. Midstream/MLP yields remain comfortably above bonds, REITs, and utilities as shown below.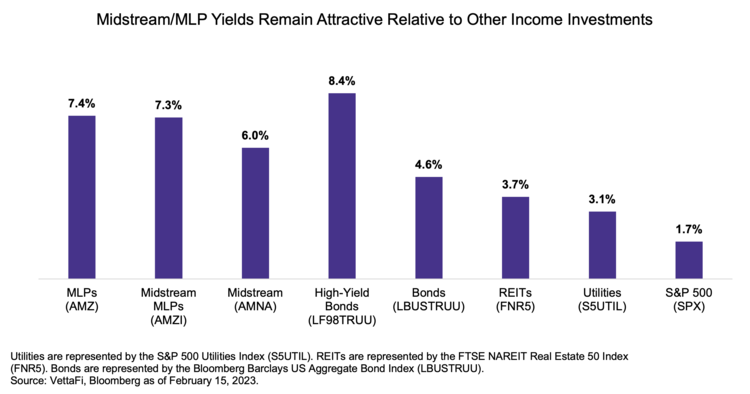 More growth is on the horizon.
With energy infrastructure companies expected to continue generating significant free cash flow, the outlook for future dividend increases remains positive. A few companies have already communicated intentions to grow their payouts. In December 2022, Kinder Morgan (KMI) announced plans to raise its dividend to $1.13 on an annual basis, which would imply a 1.8% increase to its 1Q23 payout. Similarly, TC Energy (TRP CN) has already announced a dividend for 1Q23 of $0.93 per common share, 3.3% higher than the previous quarter. Meanwhile, Hess Midstream (HESM) recently extended its annual 5% distribution growth target through 2025. Midstream investors can be encouraged by recent dividend trends and the expectation for continued growth in payouts.
AMZI is the underlying index for the Alerian MLP ETF (AMLP) and the ETRACS Alerian MLP Infrastructure Index ETN Series B (MLPB). AMZ is the underlying index for the JP Morgan Alerian MLP Index ETN (AMJ) and the ETRACS Quarterly Pay 1.5x Leveraged Alerian MLP Index ETN (MLPR). AMNA is the underlying index for the ETRACS Alerian Midstream Energy Index ETN (AMNA).
Related Research:
MLPs Shine, REITs Lag in 2022 Performance for Income Investments
Still Plenty to Like About Midstream/MLPs in 2023
Examining Midstream/MLP Yields and Credit Ratings
3Q22 Midstream Dividends: Positive Momentum Continues
The Benefits of Capital Allocation Frameworks
Vettafi.com owned by VettaFi LLC ("VettaFi"). VettaFi is the index provider for AMLP, MLPB, AMJ, MLPR and AMNA, for which it receives an index licensing fee. However, AMLP, MLPB, AMJ, MLPR, and AMNA are not issued, sponsored, endorsed, or sold by VettaFi, and VettaFi has no obligation or liability in connection with the issuance, administration, marketing, or trading of AMLP, MLPB, AMJ, MLPR, and AMNA.
For more news, information, and analysis, visit VettaFi | ETF Trends.