Energy Infrastructure Channel
Texas leads the U.S. in oil and natural gas production and has the greatest oil and natural gas reserves of any state.
In 2022, Texas accounted for 64.4% of total U.S. energy exports, with a trade dollar value of $244 billion.
The Alerian Texas Weighted Oil & Gas Index (

ATXWO

) is an index of energy companies that produce oil and gas in Texas and is a differentiated take on US exploration and production companies.
Texas clearly plays a critical role in the U.S. energy landscape as the leading producer of oil and natural gas. After all, oil is referred to as "Texas tea" for a reason. However, people may not fully appreciate the prominent role that Texas plays in global energy markets as both a major producer and exporter of hydrocarbons. Today's note spotlights Texas' contributions to energy markets, and introduces a new index of Texas oil and gas producers that provides a fresh take on the U.S. exploration and production (E&P) space.
Everything is bigger in Texas, including the energy business.
When it comes to energy, Texas is uniquely well positioned given a wealth of resources in the ground and an extensive network of infrastructure above ground that connects production with demand in the U.S., Mexico, and overseas. In 2022, Texas accounted for 42.4% of total U.S. oil production and 26.9% of total marketed natural gas production with much of that volume coming from the prolific Permian Basin. To be clear, these numbers do not include federal offshore production from the Gulf of Mexico. At the end of 2021, Texas boasted 41.4% of total US oil reserves and 22.6% of US natural gas reserves.
Texas alone produces more oil than any OPEC member, except Saudi Arabia. Complementing significant oil production, Texas is also home to a third of U.S. oil refining capacity and hosts the world's largest natural gas liquids (NGL) hub at Mont Belvieu. Even with its plentiful oil and gas reserves, Texas is also the leading state for wind power generation and second only to California in solar power capacity.
With an extensive coastline, proximity to Mexico, and significant energy production and infrastructure, Texas is naturally a major energy exporter. In 2022, Texas made up. 64.4% of total U.S. energy exports, with a trade dollar value of $244 billion. Exports from Texas span many types of hydrocarbons — oil, natural gas, liquefied natural gas (LNG), refined products, and natural gas liquids (NGLs).
Midstream companies facilitate exports by operating key infrastructure, including for example Enbridge's Ingleside crude export terminal, Enterprise Products Partners' (EPD) NGL-focused marine terminals, and Energy Transfer's (ET) Nederland terminal, which handles ethane exports (read more). With more export projects under construction or on the drawing board, Texas energy exports are poised for growth in the coming years, including LNG.
Texas has two operating LNG export facilities currently — Freeport LNG and Cheniere's (LNG) Corpus Christi facility. New LNG projects are under construction, including Exxon (XOM) and Qatar Energy's Golden Pass LNG slated to come online next year, and Sempra Energy's (SRE) Port Arthur LNG, which recently reached final investment decision. Cheniere is also expanding its Corpus Christi export terminal.
---
Content continues below advertisement
Texas deserves its own exploration and production index.
With its extensive resources, infrastructure, and accommodative regulatory environment, Texas is poised to continue to play a major role as an energy supplier to the US and the rest of the world. An index of energy companies that produce oil and gas in Texas is more than justified by the state's energy credentials. The Alerian Texas Weighted Oil & Gas Index is an index of energy companies that produce oil and gas in Texas and is a differentiated take on US E&P companies.
Most investors use the S&P Oil & Gas Exploration & Production Select Industry Index (SPSIOP) as a benchmark to gauge performance of oil and gas producers. The index is tracked by the (XOP B+), which had about $3.9 billion in assets as of April 12.
There are a few key differentiators between ATXWO and SPSIOP, including weighting scheme and purity of exposure. SPSIOP is equal weighted with modifications, while ATXWO is weighted based on the total economic value of oil and gas extracted in Texas. ATXWO offers purer exposure to oil and gas producers, as SPSIOP includes all publicly traded refiners and smaller alternative fuel companies classified as refining and marketing companies.
Given its inclusion of companies that do not actually extract oil and natural gas, SPSIOP had 59 constituents at the end of March compared to 36 constituents for ATXWO. With its more focused exposure to producers and therefore commodity prices, ATXWO noticeably outperformed SPSIOP in the pandemic recovery, particularly in 2021, as shown in the five-year performance chart below.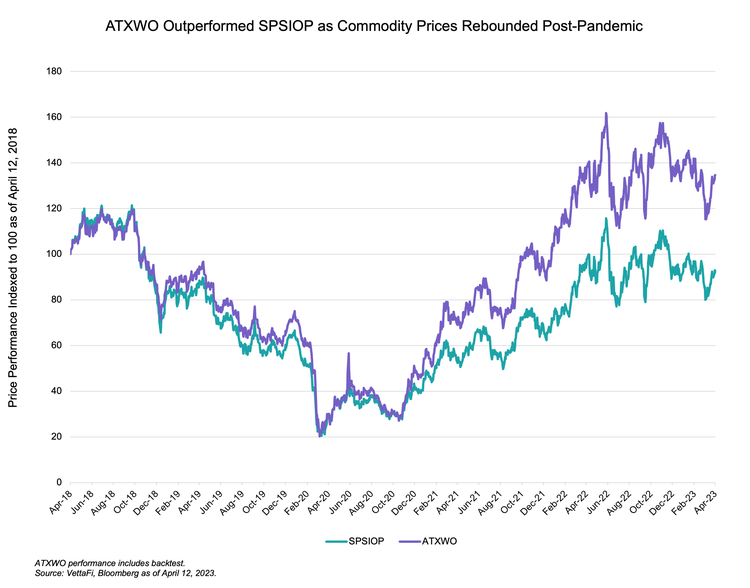 Bottom Line:
Among US states, Texas is in a league of its own when it comes to energy production, infrastructure, and export capabilities. The Alerian Texas Weighted Oil and Gas Index (ATXWO) focuses on the oil and gas producers with a footprint in the leading state for reserves, production, and exports.
For more news, information, and analysis, visit the Energy Infrastructure Channel.