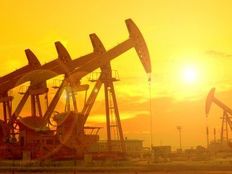 Energy Infrastructure Channel
Summary
After a record-setting 2022, energy sector earnings are likely to generally decline in 2023, though forecasts point to another strong year by historical standards.
Even with a year-over-year earnings decline, energy companies can continue to execute on free cash flow generation and generous shareholder returns.
Energy infrastructure companies may prove the exception to the trend of declining energy earnings, as several factors could drive modest year-over-year

EBITDA

growth.
With 4Q22 results continuing to roll in for energy companies over the coming weeks, earnings are certainly top of mind for investors. Many energy companies will have closed the books on their most profitable year ever, and attention has already turned to 2023. Today's note discusses the outlook for energy earnings in 2023, why a likely year-over-year decline should not be worrisome, and why energy infrastructure may prove the exception to the broader trend of lower energy earnings.
For more on the macro energy landscape and what it means for energy investing, we hope to see you next week at Exchange on February 5-8, 2023, at Miami Beach, specifically at Tuesday morning's energy session.
Energy sector earnings likely to decline in 2023.
With several macro tailwinds, energy was a clear standout for its earnings growth last year. According to a FactSet note, the energy sector's year-over-year earnings growth was estimated at just over 150% for 2022 as of mid-December. Oil and gas producers clearly benefitted from higher commodity prices, but it was refiners that saw particularly outsized earnings growth as demand for their products strengthened and their profit margins (crack spreads) ballooned to record levels in 2Q22. For the integrated majors (Exxon, Chevron), it was an ideal scenario as both upstream and downstream posted strong results.
Energy sector earnings in 2023 are likely to decline year-over-year, mainly because of how strong 2022 was, but other factors could weigh on earnings as well. Cost inflation for oil and gas producers is likely to be a bigger headwind in 2023 with service costs estimated to be up 10-20% or maybe even more. Another potential issue for producers is less availability of Tier 1 acreage (i.e., the most cost-efficient and productive drilling locations), which could directionally weigh on profitability for some companies. Revenues for energy subsectors outside of midstream will primarily depend on commodity prices, which could certainly improve but are currently at levels well below the highs seen last year. US natural gas prices have had a particularly rough start to the year and are expected to average less in 2023 than in 2022 (read more).
---
Content continues below advertisement
Should energy investors worry about declining earnings?
On the surface, a year-over-year decline in earnings may seem worrisome but added context can likely put energy investors' minds at ease. Most importantly, investors need to realize 2022 was exceptional, and current estimates for 2023 are still very strong by historical standards. It's a little like Michael Phelps winning eight gold medals in Beijing in 2008 and then winning four golds and two silvers in London in 2012. Beijing was better than London, but his results in London were still impressive. The chart below shows Chevron's (CVX) reported net income for 2007 through 2022 compared to estimated net income for 2023 based on consensus. CVX is used here as a rough proxy for energy broadly, mainly because of its familiarity and because it has reported 2022 results. As shown in the chart, estimated net income for 2023 would mark the second-best year for CVX since 2007, falling only behind 2022.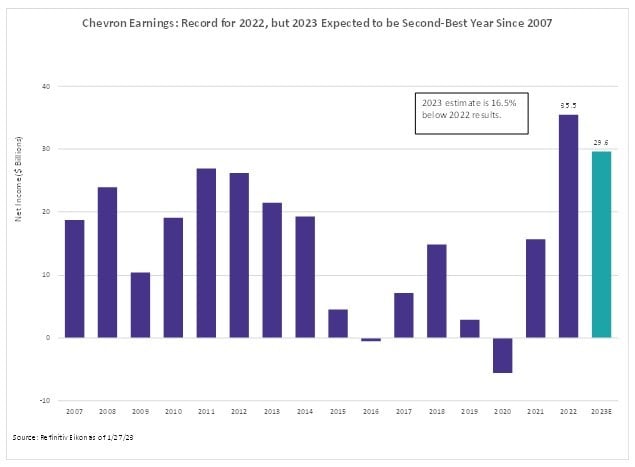 Earnings clearly matter, but the energy investment case is so much more than just an earnings story. A focus on growth has been replaced with capital discipline and an emphasis on returns. Companies are generating significant free cash flow and returning that to investors through dividends and buybacks. Energy has arguably become an income play. The Energy Select Sector Index (IXE) was yielding 3.7% as of January 26 – above traditional income categories like REITs and utilities. Energy companies are also investing for a cleaner energy future, particularly the integrated majors and midstream companies (read more). More broadly, energy has performed well against a backdrop of high inflation and rising interest rates, which have proven to be headwinds for other industries.
Midstream may be the exception to 2023 earnings declines.
Not all energy subsectors may see their earnings decline this year. As largely fee-based businesses, energy infrastructure companies had the least to gain from high commodity prices in 2022. Generally, it was an unremarkable year for midstream earnings compared to other energy subsectors, with Cheniere (LNG) an exception given the significant strength in LNG markets last year. This also largely explains why the best-performing index in the Alerian energy infrastructure suite last year, the Alerian MLP Infrastructure Index (AMZI), saw a total return of 31.4% compared to the 64.5% gain for the IXE. For 2023, midstream has less to lose from lower commodity prices expected this year and could see year-over-year EBITDA growth.
There are a few reasons midstream results for 2023 could very well be stronger than in 2022. The annual inflation adjustments built into many midstream contracts may help drive a year-over-year improvement in EBITDA, particularly if costs rise at a slower pace. New projects, incremental volumes on existing systems, and acquisitions (read more) may also drive earnings higher, while asset sales could contribute to year-over-year declines for some.  Only a handful of midstream companies have given guidance for 2023 (stay tuned for more on 2023 guidance in the coming weeks), but 2-3% EBITDA growth at the midpoint looks to be the trend. It bears noting that Enbridge (ENB CN) and TC Energy (TRP CN) are guiding to higher year-over-year growth of 6% and 5-7%, respectively, which fits with their more extensive growth backlogs.
Bottom Line
The energy sector is likely to see lower earnings in 2023 after a standout, record-setting 2022. Energy infrastructure companies may prove the exception, as several factors could contribute to modest year-over-year EBITDA growth. Importantly for energy investors, companies do not need sequential earnings growth to deliver free cash flow and the accompanying dividends and buybacks that have been important tailwinds for the sector.
AMZI is the underlying index for the Alerian MLP ETF (AMLP) and the ETRACS Alerian MLP Infrastructure Index ETN Series B (MLPB).
VettaFi.com is owned by VettaFi LLC ("VettaFi"). VettaFi is the index provider for AMLP, for which it receives an index licensing fee. However, AMLP is not issued, sponsored, endorsed, or sold by VettaFi, and VettaFi has no obligation or liability in connection with the issuance, administration, marketing, or trading of AMLP.
For more news, information, and analysis, visit the Energy Infrastructure Channel.