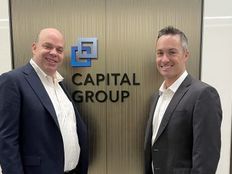 With $28 billion of net inflows in the first four months of 2023, according to VettaFi LOGICLY data, active ETF investments continue to gain traction with advisors and end clients. Two of the firms benefiting from the trend are Dimensional Funds and Capital Group. VettaFi caught up with executives from both firms last week in New York.    
Dimensional Funds pulled in $9.4 billion in the first third of the year, increasing its asset base to $85 billion. The firm entered the ETF market in 2020 and now has 30 products, including some converted from pre-existing mutual funds.
Its largest offering, the (DFAC A), gathered $1.7 billion to lead the charge this year. The ETF's asset base nears $19 billion. However, two of the firm's other popular equity funds this year were the more moderately sized (DUHP A) and the (DFEM B+), which added $713 million and $495 million, to boost assets up to $2.3 billion and $1.7 billion, respectively. 
"We regularly have conversations with investors already positioned toward U.S. growth, looking for diversification opportunities," explained Anthony Caruso, Dimensional's co-head of product specialists at Dimensional Fund Advisors. 
DFEM tilts toward smaller emerging market companies with relatively low price-to-book-value and higher profitability. 
Not all managers of active ETFs are having the same success. ARK, well-known for its active disruptive technology ETF line-up, had approximately $400 million of net outflows to start the year. Its asset base has shrunk below $12 billion.
Which Active ETF Issuers Saw The Most Flows
However, a handful of firms with strong active mutual fund heritages have experienced strong demand for their broadly diversified ETFs. This includes Capital Group and Dimensional Funds, as well American Century, JPMorgan, and T. Rowe Price.
Capital Group ETFs added $2.0 billion of new money in the first four months of 2023. The firm launched its first of nine ETFs in early 2022 and already has nearly $9 billion in assets. In early 2023, the (CGDV A-) and the (CGGR B+) gathered approximately $475 million and $458 million, respectively. They're now $2.0 billion and $1.9 billion in AUM.
"Our ETF strategies have all been designed to sit at the core of a portfolio versus functioning as niche or thematic allocations on the periphery of a portfolio," noted Scott Davis, head of ETFs at Capital Group. 
CGDV owns dividend-paying companies that management views as attractively valued, including (CMCSA), (EIX), and GE. 
---
Content continues below advertisement
Prudence In Active ETF Product Development
Anytime asset managers have success with existing products, it's easy to assume more funds must be on the way. VettaFi has identified pending products based on regulatory filings. But both Dimensional Funds and Capital Group leaders stressed they were taking a prudent approach to product development. 
"We're building based on client demand and seeking to fill the gaps in our lineup to support asset allocation," commented Nicole Hunter, head of ETF capital markets at Dimensional Funds Advisors.  
Dimensional will soon launch a large-cap value product and a California municipal bond one later this year. Meanwhile, Capital Group filed recently for five new ETFs, including two global equity funds, two bond ETFs, and one asset allocation offering.  
"Since entering the ETF market last year and even beforehand, we spoke to advisors and the investors they serve to understand their ETF needs to ensure we offered something that was fit for purpose, and not just a response to any one particular market trend or theme," added Capital Group's Davis. 
We look forward to further educating advisors about active ETFs from these well-established asset managers.   
For more news, information, and analysis, visit VettaFi | ETFDB.
Data provided by LOGICLY, which is a wholly owned subsidiary of VettaFi.