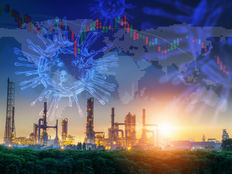 ETF Building Blocks Channel
There are certainly fancier financial terms for articulating the situation, but crude oil prices are all over the place this year and that's highlighting the sensitivity of those moves sported by some equity-based ETFs.
One of way avoiding intimate correlations to oil's near-term whims is via midstream infrastructure corporations and partnerships, which are accessible via the Alerian Energy Infrastructure ETF (ENFR ).
To be sure, midstream equities are not fully immune to oil swings, but cash flow in the asset class is usually steadier than with, say, exploration and production companies.
"The fee-based nature of midstream's contracts helps protect cash flows from swings in energy commodity prices. However, oil prices still tend to impact the space from a sentiment standpoint," said Alerian analyst Bryce Bingham in a recent note.
Important ENFR Attributes
Midstream companies are levered to demand for export infrastructure, liquefied natural gas (LNG) demand, and wider differentials, among other factors. Data confirm midstream's correlations to oil prices isn't tight compared with other energy assets.
Over the past 10 years, the Alerian Midstream Energy Select Index (AMEI) – ENFR's underlying benchmark – has a rolling correlation of 0.62 to oil prices, according to Alerian data. That's not exceptionally low, but it's lower than comparable metrics on integrated oil stocks, exploration and production names, and oil services providers.
"While midstream typically performs defensively relative to its peers in an environment of declining oil prices, correlations with oil still tend to strengthen," notes Bingham. "As we have seen in recent months, dramatically lower oil prices have brought about issues that could impact midstream fundamentals."
ENFR currently yields 8.83% and while the midstream space isn't seeing a spate of negative distribution action to this point in 2020, operators here may opt to rein in or not grow payouts this year as a matter of prudence in a volatile oil environment.
"Many smaller midstream companies will prioritize financial flexibility and balance sheet strength over their distribution, especially if yields soar to lofty levels," adds Bingham. "This reallocation of capital may be the best course of action for ensuring the long-term stability of many operators but could be frustrating to income-focused investors."
In recent years, many midstream companies prioritized strong balance sheets and increased financial flexibility while eschewing large consolidation. To this point in 2020, midstream operators' comments on their balance sheets is steadying the group, potentially positioning to be a prime destination for energy investors when oil prices calm.
An alternative fund in the energy infrastructure space is the VanEck Vectors Energy Income ETF (EINC), which seeks to replicate as closely as possible, before fees and expenses, the price and yield performance of the MVIS® North America Energy Infrastructure Index (MVEINCTG), which is intended to track the overall performance of North American companies involved in the midstream energy segment, which includes MLPs, and corporations involved in oil and gas storage and transportation.
---
Content continues below advertisement