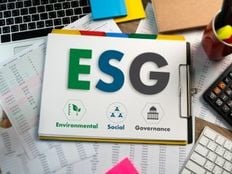 An efficient avenue for asset managers and fund issuers to avoid regulatory scrutiny of products with the environmental, social, and governance (ESG) label is to ensure that those funds live up their ESG ETF billing. That can be accomplished with data-intensive approaches.
Some exchange traded funds are already doing that while allaying concerns about green washing. That group includes the Invesco ESG Nasdaq 100 ETF (QQMG B) and the Invesco ESG NASDAQ Next Gen 100 ETF (QQJG C+). While both are index-based strategies, their underlying benchmarks are data-rich gauges, ensuring utility at a time when many asset allocators are decrying a lack of credible ESG data.
A recent survey by BNP Paribas confirms as much. Underscoring potentially wide adoption cases for QQMG and QQJG, the French bank found 71% of respondents describe current ESG data offerings as "inconsistent and incomplete," noting that situation is a significant barrier to ESG entry.
Maybe Good News for QQMG, QQJG
How important is reliable ESG data to professional market participants? According to BNP Paribas, the aforementioned 71% of respondents prioritizing ESG data is a larger percentage than those viewing green washing or ESG fiduciary duties as hurdles to broader ESG adoption.
Perhaps highlighting the utility of ETFs such as QQMG and QQJG is that ESG-interested professional investors are committing more time and resources than are necessary to check ESG boxes.
"The most common use of ESG data vendors is for ESG scores and ratings, followed by green bond metrics, environmental issues and for alternative assets," according to the survey. "Investors also use both generalist data vendors, where ESG data is part of the overall data offering, and specialist data vendors, who focus on certain aspects of ESG data, such as environmental data. In addition, investors often use a combination of generalists and specialist vendors."
Additionally, it's likely that the need for reliable ESG data is only going to increase in the years ahead as it has for the past several years. Increasing focus on climate change and new ESG investing standards are among the factors ushering in a new era of ESG data dependence.
"And new regulatory requirements, such as the European Union's Sustainable Finance Disclosure Regulation (SFDR), require greater transparency on the disclosure of information related to sustainability," concludes BNP Paribas. "Another driver for more and better ESG data is the growing use of impact investing, where investors seek to make a measurable, positive contribution to their ESG goals. Now in 2023, as we see above, ESG data is even more of an issue for investors, with 71% citing it as a significant barrier to the greater adoption of ESG investing."
For more news, information, and analysis, visit the ETF Education Channel.
---
Content continues below advertisement