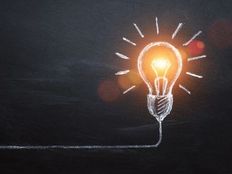 As investors look to pick up the pieces from a rough year for disruptive tech stocks while planning for a downbeat fourth-quarter earnings season, it pays to remember that the long-term outlook for the sector remains attractive.
Much of that allure is attributable to a long runway for innovation — a core competency of many of the companies residing in the . QQQJ follows the NASDAQ Next Generation 100 Index, which is akin to the proving ground for the widely observed Nasdaq 100 Index (NDX). Said another way, QQQJ's index DNA ensures that the exchange traded fund is home to an array of innovative companies.
While disruptive growth investing was punished last year, it remains relevant because even old guard industries are intersecting with new tech in multiple ways. Those relationships are expected to grow in the years ahead, potentially providing ballast for the QQQJ thesis.
"During the next few decades, as researchers and engineers bring technologies together in creative ways, the cumulative effect could be even more powerful than that of individual trends," according to McKinsey research. "Organizations already combine different technologies to create the metaverse and the many layers that make it up. We expect changes like these will accelerate and intensify in the years to come, much as they have since the start of the internet revolution some 30 years ago."
Adding to the pertinence of QQQJ is the point that executives cannot sit idly by and wait for tech evolution to arrive. They need to be proactive and anticipatory because evolution moves fast. Some QQQJ member firms can deliver when it comes to preparing for next-gen tech.
"Technology trends will not only alter the competitive landscape for businesses, but also exert evermore powerful effects on society: reshaping markets, boosting productivity, spurring growth, and enhancing lives and livelihoods," added McKinsey.
The $772.8 million QQQJ allocates 33.80% of its weight to tech stocks, positioning for the ongoing disruptive tech evolution, but some of the ETF's other sector weights are also relevant because they're likely to be major adopters of new technological innovations. Those include healthcare and consumer discretionary, which combine for 37% of the ETF's roster.
"Healthcare providers, for example, will find that advanced connectivity lets them monitor the condition of chronic-disease patients at home using connected medical devices," concluded McKinsey. "Retailers might boost sales by using machine learning to crunch purchasing data and give shoppers personalized recommendations."
For more news, information, and strategy, visit the ETF Education Channel.