Energy and information technology are the two sectors most top of mind for investors, according to polling at VettaFi's recent Equity Symposium.
During the "Strategic Sector Allocation for Today's Market Landscape" panel, moderated by VettaFi Vice Chairman Tom Lydon, viewers were polled on which sector they found the most attractive for the rest of the year. Respondents overwhelmingly chose energy at 42%, with information technology just behind at 21%.
Fidelity Investments Director of Quantitative Market Strategy Denise Chisholm and Gabelli Funds portfolio manager Mac Sykes joined Lydon for the panel.
Why Look to Sector Allocations?
Honing sector allocations may be investors' most important task in the waning months of this year, said Chisholm.
"The more you zoom out and group stocks and even sectors together, the more you can recognize the biggest patterns," she said.
"The way I like to look at sectors is by grouping them into offense and defense," she continued. "You can start to see either pro-cyclical or defensive patterns by zooming out, then you can zoom back in to see the risk/reward in individual sectors as well."
Targeting specific sectors can also get investors closer to accomplishing specific portfolio goals, said Sykes.
"There's the ability to add an alpha to a passive asset allocation," he said, as well as provide "a thematic option for investors to target a specific area of the market. And it's something that can take advantage of long-term secular themes."
---
Content continues below advertisement
Which Sectors Look Most Promising For H2 2023
Growth sectors have been in vogue for most of 2023, with technology by far and away the leading sector, based on flows. In the three months ending Sept. 20, technology ETFs had taken in nearly $37.7 billion in new net assets, compared to $8 billion for the next nearest sector, healthcare: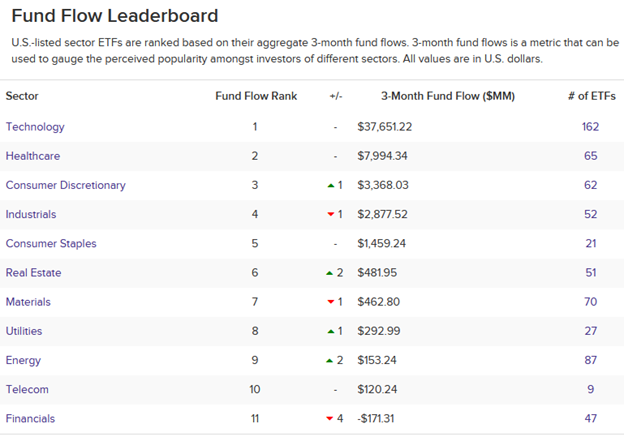 That said, Chisholm is looking at consumer discretionary as a sector to watch, she said on the panel.
For her, the stock market has discounted a recession that didn't happen. That in turn produced a significant defensive rotation. Markets have seen a cyclical rotation led by consumer discretionary and technology; the big question now facing investors, she said, was whether that rotation away from defensives will continue.
See more: Play AI's Impact in Active Disruptive ETFs FBOT, FDTX
Valuation Support In Consumer Discretionary Stocks
On an equal weight basis, consumer discretionary stocks also has really notable "valuation support," said Chisholm, with the sector's display of bottom quartile earnings growth tending to rebound after downturns or recessions.
While the U.S. economy did not see a recession as traditionally defined by NBER, she said, it did see an earnings dip. Following that earnings slump could be a bounce back.
Chisholm noted that recessions don't tend to happen just because of recoveries deflating, but because of market shocks. Those shocks, usually coming from Fed action or oil price, haven't really struck the current market, while incomes have remained resilient.
Energy goods and services have not spiked enough to shock the consumer, she added. Net revisions to earnings stands out as a key factor.
"To the extent that (revisions) continue for the next twelve months it is likely that corporations will continue hiring. If that is the case, it is very likely that consumers continue to spend," Chisholm said.
Keep an eye out for more of VettaFi's Equity Symposium coverage on that topic and more in equities.
For more news, information, and strategy, visit the ETF Investing Channel.
Fidelity Investments® is an independent company, unaffiliated with VettaFi. There is no form of legal partnership, agency affiliation, or similar relationship between VettaFi and Fidelity Investments, nor is such a relationship created or implied by the information herein. Fidelity Investments has not been involved with the preparation of the content supplied by VettaFi and does not guarantee, or assume any responsibility for, its content.