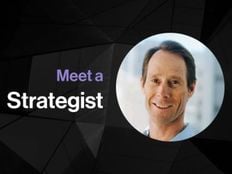 Main Management's president and CEO Kim Arthur was interviewed at Exchange back in February. Main Management has run portfolios that are exclusively ETFs for over 20 years, and Arthur weighed in on the state of the markets.
"2023 is interesting. This feels like it is the most predicted or anticipated recession ever," Arthur said, adding, "Mr. Market usually likes to confound the largest number of people and cause the biggest amount of pain." Arthur saw the biggest potential pain point for many investors as being the recession failing to materialize, as many are positioned for a recession.
Main Management on International Investing
For the last 12 years, investors have been confounded by what to do with their international allocations. "There is one highly correlated factor to international equities outperforming, and that's called the U.S. dollar," Arthur shared. The dollar has been strong for over 10 years, since 2011, creating an unusual amount of headwinds for international investors.
Arthur said that the dollar may have peaked back in September. "Now that the dollar is rolling over, that becomes a tailwind." Arthur also noted that valuations are extremely cheap and earnings growth in emerging markets is significantly greater than in the U.S. "Everyone is underweight in the international asset class. If you mention the 'I' word, people run."
---
Content continues below advertisement
Volatility in the Markets
Market volatility has been top of mind for many investors, especially with the Fed raising rates by 450 basis points last year and no sure sign that hikes are over. "It's been decades since they did that," Arthur said, noting that a great deal of uncertainty remains regarding where the economy and earnings are going.
Arthur said that strategies such as the (BUYW ) could be well positioned to take advantage of that uncertainty. "We like to say it sits between the wallpaper. The wall is fixed income, the wallpaper is equities, it slices right in between."
For more news, information, and analysis, visit VettaFi | ETFDB.