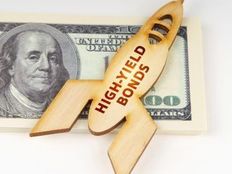 Institutional Income Strategies Channel
Despite the potential for spread widening if the U.S. heads into a recession, high yield corporates, particularly bonds in the energy and core industrial sectors, could generate positive total return performance in 2023, reflecting the higher coupon income. While corporate defaults could go up this year — especially if the economy does head into a substantial downturn — projects that defaults should remain below their long-term average.
"[T]he dispersion of returns across industry sectors and credit rating categories will remain elevated, creating opportunities for outperformance based on sector and credit quality selection," according to the . "Reflecting the potential for a recession, we recommend investors overweight the higher quality segments of the credit rating spectrum, rated BB and single-B, and underweight CCC's."
Given the current spread and yield levels, BondBloxx co-founder Joanna Gallegos has described single-Bs as " the Goldilocks of high yield since they're "less rate-sensitive than double-Bs and … less idiosyncratic risk than triple-Cs." The firm also argued in its outlook that single-Bs offer a yield/spread pickup versus both BBs and the broad high yield index.
Given the healthy cash flows that BB-rated companies in the energy sector are generating as well as their continued focus on de-leveraging, BondBloxx is recommending high yield bonds in this industry. The firm also favors high yield bonds in the core industrial sector, considering the strong balance sheets and earnings that many of the underlying companies in this sector have exhibited.
For investors wanting targeted high yield exposure, BondBloxx has , including the and the .
Launched in October of 2021 to provide precision ETF exposure for fixed income investors, Gallegos co-founded BondBloxx with ETF industry leaders Leland Clemons, Tony Kelly, Mark Miller, Brian O'Donnell, and Elya Schwartzman. The team has collectively built and launched over 350 ETFs at firms including BlackRock, JPMorgan, State Street, Northern Trust, and HSBC.
Since February, BondBloxx has launched 19 fixed income ETFs, including seven industry sector-specific high yield bond ETFs, , , and .
"BondBloxx has continued to launch innovative products since its founding and has expanded the ETF universe with targeted products where there is white space," said Todd Rosenbluth, head of research at VettaFi. "Their broad range of fixed income funds makes them a firm to watch as the asset category grows."