Aside from Nvidia's monumental gains in recent days, markets remain tense and relatively flat as investors await a debt ceiling resolution. Continued volatility from various market stressors creates ongoing challenges for trend followers. However, the 2022 managed futures ETF star iMGP DBi Managed Futures Strategy ETF (DBMF B+) seems to have found its footing after abrupt trend reversals in March.
Banking sector stress in March led to investor uncertainty in bonds, debt ceiling stress in May weighs on short-term Treasuries, and second half recession odds loom over equities. The abrupt reversal of the inflation trade in March that sustained the fund for the last year led to a sharp decline. DBMF has regained some of its price performance since March and demonstrated positive gains in May.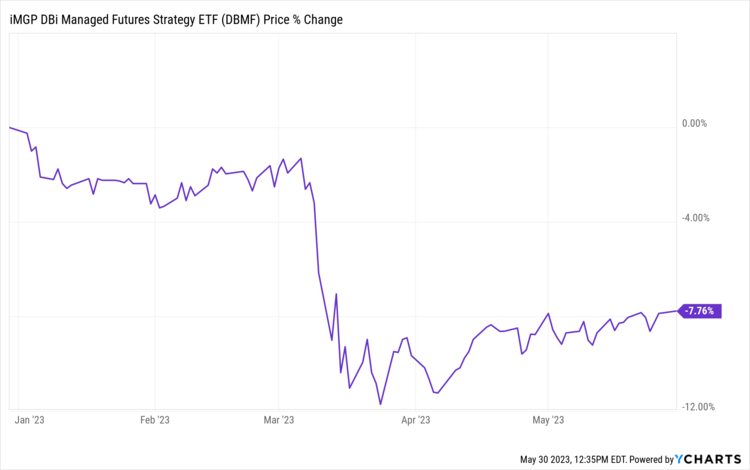 Though the fund is down 7.80% year-to-date, in the last month it had positive price performance at 0.90% as of 05/30. Persistent volatility and a confluence of opposing market stressors continue to create challenges for trend-based strategies. Despite short-term volatility, managed futures still offer significant returns and performance long-term.
See also: A Historical Look at Managed Futures Returns and Performance
---
Content continues below advertisement
Invest in Long-Term Trends With This Managed Futures ETF
The iMGP DBi Managed Futures Strategy ETF (DBMF B+) allows for the diversification of portfolios across asset classes uncorrelated to traditional equities or bonds. The actively managed fund uses long and short positions within the futures market on several asset classes. These include domestic equities, fixed income, currencies, and commodities (via its Cayman Islands subsidiary).
The fund's position within domestically managed futures and forward contracts is determined by the Dynamic Beta Engine. The DBE analyzes the trailing 60-day performance of CTA hedge funds. It then determines a portfolio of liquid contracts that would mimic the hedge funds' averaged performance (not positions).
DBMF takes long positions in derivatives with exposures to asset classes, sectors, or markets that are anticipated to grow in value. The fund also takes short positions in derivatives with exposures expected to fall in value.
Currently the managed futures ETF is long the 1 Year Treasury Bill, the 10 Year Treasury Note, and the 10 Year Ultra futures. DBMF is also long the  MSCI EAFE and gold. The fund is short the yen, 30-day Fed Funds, MSCI emerging markets, crude oil, the 2 Year Treasury Note, and more.
DBMF has management fees of 0.85%.
For more news, information, and analysis, visit the Managed Futures Channel.