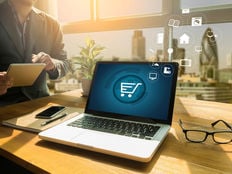 The report analyzed online retail purchases across desktop and mobile devices. Comscore's Digital Commerce Measurement includes all online retail spending except for travel.
In Q4, the biggest spending quarter of the year, dollars spent on mobile devices in the U.S. also grew at a higher rate than on desktop devices, 26% versus 14%, with mobile's share of total digital commerce reaching nearly 40%.
"We've been measuring digital commerce trends for over two decades, including the addition of mobile in 2013," said Ian Essling, Comscore's senior director of survey insights. "This has really given us a front-row seat to digital commerce growth over the years, as well as the increased pace of adoption during the pandemic."
Per the report, online retail spending during the 2022 holiday season broke $230 billion and grew by 20% year-over-year. Online grocery and apparel were the top spending categories, with $219 billion spent on grocery, baby, and pet items; $175 billion on apparel and accessories; and $117 billion on computers and peripherals. The top growing digital commerce categories year-over-year were event tickets (75%), digital content (60%), and apparel and accessories (37%).
Added Essling added that "at the beginning of the pandemic in 2020, digital commerce was at $705.4 billion. A year later, it hit $904.3 billion, and this year we're over $1 trillion. That level of growth previously took four years to achieve. Consumers are clearly doubling down on what works best for them — seamless, convenient, online purchasing across many different verticals and product types."
This meteoric rise in digital spending is sure to have a positive effect on the actively managed Neuberger Berman Connected Consumer ETF (NBCC B-), which targets companies that demonstrate significant growth potential from connectivity-based consumerism.
NBCC spans a broad range of industries globally and may invest in companies of any market cap. The team will evaluate the web search and spending tendencies of millions of consumers and the daily call transcripts and filings of over 4,000 public companies to identify the best opportunities for mass adoption in the digital age.
"Retailers need to reimagine their technology or business model to connect with the Gen Y and Gen Z consumers," said John Aguilar, senior vice president and head of U.S. intermediary marketing at Neuberger Berman. "How are companies reimagining themselves to future-proof their business to connect with that digitally native cohort?"
NBCC is managed by Kevin McCarthy, John San Marco, Kai Cui, Timothy Creedon, and Hari Ramanan.
For more news, information, and analysis, visit the Megatrends Channel.