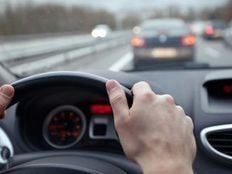 The top holding in the Neuberger Berman Disrupters ETF (NBDS B) is partnering with a designer of AI-powered operator monitoring systems to improve driver safety.
Analog Devices Inc. (Nasdaq: ADI) and Seeing Machines are working together to support driver and occupant monitoring system (DMS/OMS) technology. The collaboration combines ADI's infrared driver and Gigabit Multimedia Serial Link (GMSL) camera connectivity solutions with Seeing Machines' artificial intelligence DMS and OMS software to support eye gaze, eyelid, head, and body-pose tracking system technology that monitors driver fatigue and distraction.
Semi-autonomous driving systems rely on in-cabin DMS and OMS to recognize and address driver fatigue and distraction. These systems must operate in all lighting conditions and require proper infrared lighting to ensure image quality on a frame-by-frame basis necessary for eye tracking in real time.
The combined solution from ADI and Seeing Machines leverages ADI's infrared driver for DMS and OMS, which allows for a non-intrusive, smaller camera module in a vehicle's cabin. Seeing Machines' AI software interprets signals from the optical hardware, monitors and diagnoses the problem, and combines with advanced driver assistance systems features to enable output signals to warn drivers and vehicle occupants when necessary.
"Cabin monitoring is complex and requires careful integration of infrared illumination, image capture, data processing, and algorithm layers to achieve a real-time response," said Yin Wu, director of automotive product line management at ADI, in a news release announcing the partnership. "Together with Seeing Machines, we are supporting the automotive industry with pragmatic solutions to help reduce collisions and save lives."
NBDS invests in companies like ADI that pursue disruptive growth agendas that the portfolio management team believes will shape the future and can invest globally across market capitalizations. As of Jan. 9, ADI made up 6.27% of the ETF's holdings.
Rather than use traditional sector classification, the fund instead uses a disciplined process to seek highly innovative companies consistent with a longer-term investment horizon. The portfolio team has access to daily analysis on six terabytes of data through machine learning, language processing, and cloud computing techniques. This includes SKU-level transaction data, search data, and conference call transcripts, complementing its fundamental analysis to result in a rigorously developed and highly targeted portfolio of roughly 30 companies.
NBDS is one of Neuberger Berman launched in April. The ETFs are an extension of the firm's thematic equity investment capabilities using traditional fundamental equity research along with alternative data capabilities and consideration of material environmental, social, and governance factors.
Joseph Amato, chief investment officer and president of Neuberger Berman, said in a news release that the new ETFs "deliver Neuberger Berman's thematic equity expertise to a broad investor base."