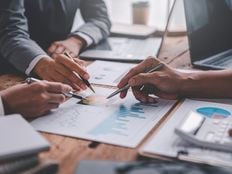 Most investors know an asset class "performance quilt" when they see one – but they may not be as familiar with another powerful lens into understanding market risk, and risk factor diversification. A popular approach at WisdomTree Investments, risk factor diversification involves more than just simple diversification across types of investments, but across risk factors like value, growth, and quality – with small cap strategies one way to balance those factors in the weeks ahead.
Understanding risk factors in 2023 means looking back to 2022 when growth was thrown from its high perch as the Fed began its rate hike campaign. It was one of the "greatest factor rotations in history" according to WisdomTree's chief investment officer for model portfolios, Scott Welch, in which the difference in performance between growth and value factors grew to one of the widest recorded dispersions between factors.
The challenge in 2023 is that the factors are all over the place – one week, the Fed has been tamed and inflation is in the rearview with a soft landing – or no landing at all – in the cards. In the next week, the Fed comes out with talons bared, and the market shifts back towards strategies to take cover for more rates – as many as three could be coming this year.
Despite the scramble to identify the true market zeitgeist among the various factors, investors can consider the folks over at WisdomTree are sticking to value and dividends given that factor rotations tend to last more than just a single year despite the volatility. Small-cap strategies with a value tilt may be worth checking out.
"Despite the narrowing of the gap between large- and small-cap valuations, small caps remain attractively valued on a comparative basis," Welch wrote in a recent insight from the shop.
As such, investors wanting to lean on a strategy for the new factor regime of value and dividends with a strategy like the WisdomTree Europe SmallCap Dividend Fund (DFE B+) which tracks the WisdomTree Europe SmallCap Dividend Index for a fee of 58 basis points and invests in small-cap European stocks with a value tilt and dividend weighting methodology. DFE has returned 11% YTD and seen $50.6 million in one month's net inflows.
With other strategies tied to value and dividends such as AI-powered value funds like the WisdomTree U.S. AI Enhanced Value Fund (AIVL C+) and emerging markets dividends in the WisdomTree Emerging Markets High Dividend Fund (DEM A), understanding the value of a risk factor view compared to standard asset class diversification can be a powerful tool in the weeks ahead.
For more news, information, and analysis, visit the Modern Alpha Channel.