Where does the Fed's battle against inflation stand after the last week's worth of economic data? That's the subject of a recent research note from WisdomTree's head of fixed income strategy, Kevin Flanagan, looking into one of the hottest segments of fixed income over the last few months in Treasuries. One particular slice to watch amid fluctuating Fed funds expectations could be floating Treasuries in a strategy like the WisdomTree Floating Rate Treasury Fund (USFR A-).
What does the Fed funds rate look like following recent jobs and CPI numbers? While the Treasuries market has seemingly indicated that a recession is on the way, the implied Fed funds rate for January 2024 is higher now than it was in mid-March when the so-called "bank crisis" was in full swing. The implied rate lifted back up after the initial jobs numbers suggesting that markets expect "some" cuts, but much less drastically than the 3.7% rate expected as of last month.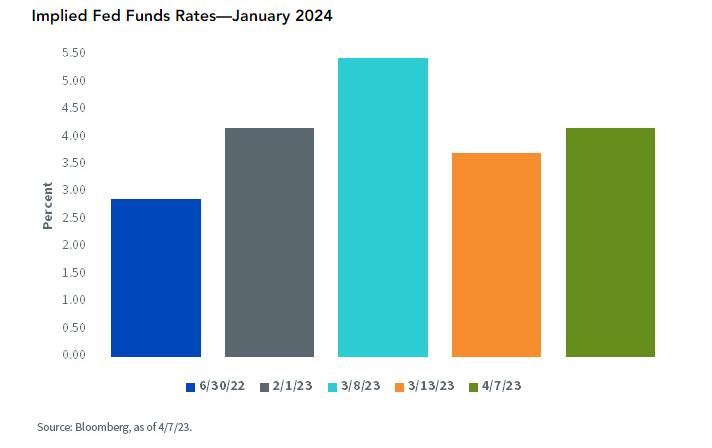 Flanagan concludes that getting down to around 4% by January next year will take some cuts, but as for now, investors and market watchers may want to expect a holding period at the Fed for some time to come. Whatever the case, there are still some very appealing yields to be found in the Treasury market overall, but how best to get at them?
One way could be floating Treasuries or so-called floating rate notes (FRNs) in an ETF like USFR. USFR has been a flows standout with $1.1 billion over the last month alone in net inflows, charging just 15 basis points (bps) for its 1.3% return on a YTD basis.
See more: the ABCs of FRNs: Get Floating Rate Note Yields in USFR
Treasury yields are facing a middle period of 2023 defined, perhaps, by volatility – banking headlines threw the T-bill world for a loop, and perhaps show how vulnerable yields can be to the economy creaking from the pressures that are pulling towards a recession.
---
Content continues below advertisement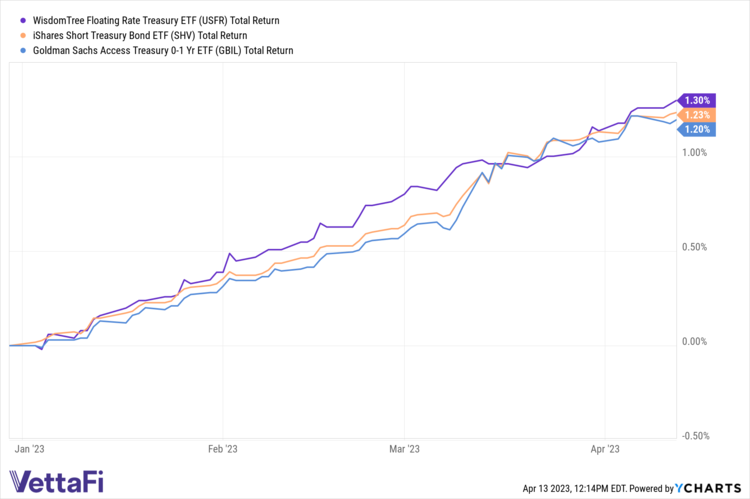 Looking at fundamentals alone, even yields look set to keep fluctuating. USFR and its reliance on FRNs and their coupons that reset weekly could ride those fluctuations while offering steady yields, making USFR a solid option to watch as the Fed funds rate continues to move.
For more news, information, and analysis, visit the Modern Alpha Channel.