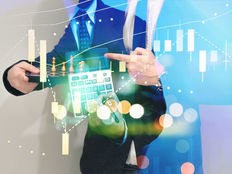 Portfolio Strategies Channel
The materials sector is the second-smallest sector exposure in the S&P 500 at 2.64%. Only utilities at 2.6% is smaller, but that doesn't mean that there aren't potentially big opportunities with materials.
Some market observers believe that the sector is the place to be and that the Invesco S&P 500 Equal Weight Materials ETF (RTM A-) is a prime idea among related exchange traded funds. RTM follows the S&P 500® Equal Weight Materials Index, which equally weights the materials stocks residing in the S&P 500.
These days, the sector is a valuation play, as highlighted by Bank of America in a recent note.
"Materials ETFs are the most attractive within US equity sectors from a valuation perspective. The group is the most oversold at -0.36 standard deviations from average valuation. Average price-to-earnings and price-to-free cash flow ratios are particularly attractive relative to other sector ETFs," says the bank.
Bank of America goes so far as to recommend materials over the once-vaunted technology sector, and RTM is one of the research firm's preferred ideas among materials ETFs.
"Materials is the third most attractive sector on our US equity strategists' S&P 500 momentum & value framework. Construction Materials and Chemicals screen as some of the most attractive industries," notes Bank of America.
While valuation is a legitimate advantage, RTM offers another significant benefit in the form of reduced concentration risk. That's relevant because in the cap-weighted S&P 500 Materials Index, just one stock (Linde Plc.) commands a weight of 16%. Conversely, none of RTM's 29 holdings exceed a weight of 4.52%.
And yes, RTM is attractively valued, indicating that the combination of compelling valuations and less concentration could be interesting for sector investors.
"RTM is currently trading with a 12 month forward P/E of 12.7x, which is -1.8 standard deviations from its long-term average," notes Bank of America. "RTM has almost 60% exposure to Construction Materials and Chemicals."
Nearly 39% of of RTM's member firms are classified as value stocks, while only 10% have the growth designation. About 72% of the holdings in the $462.1 million RTM are mid-cap stocks, and that size factor advantage is meaningful because over the past three years, RTM is up 68.6% and the large-cap S&P 500 Materials Index is only up 55%.
For more news, information, and strategy, visit the Portfolio Strategies Channel.