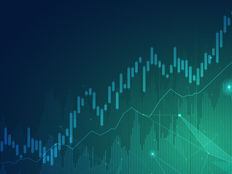 Relative Value Investing Channel
DIVERGENCES AND DISCREPANCIES
By Direxion
OVERVIEW
Market Drivers: With expectations for a cut in the federal funds rate all but certain and positive sentiment around U.S. – China trade relations, June saw U.S. equity markets mark another all-time high. Economic data around the globe is undeniably trending lower, but we're seeing signs of stabilization. Fed policy, trade relations, and "lower but stable" data seems to be setting the stage for another "Goldilocks" period.
Performance: June provided signs of improving market breadth amidst a month that carried some "risk-on" sentiment. While overall relative value themes are largely intact, Small Caps outperformed Large Caps, Value names outperformed Growth stocks, and Emerging Markets showed signs of life relative to their Developed Market counterparts. Notably, short-term price momentum signaled shifts in relative strength towards Value and Emerging Markets.
Flows & Positioning: Flows throughout June supported longer-term trends with market positioning, as we saw the largest relative strength in 1-month flows lean towards Large Cap exposures (relative to Small Caps) and U.S. stocks (relative to International names). We saw net positive flows across equities in all ten categories with the exception of Emerging Markets.
What's Next: All eyes on the July Federal Reserve meeting, and the market is fully expecting a 0.25% rate cut. While the G-20 meeting between Trump and Xi Jinping was a net positive, uncertainty remains regarding the next steps towards a resolution. In the meantime, further tariffs have been proposed on the EU. We're keeping an eye on volatility, but remain skeptical that the

VIX

can return to the 10-11 range on just rhetoric alone.
MARKET MOVES
STOCKS & BONDS SINGING A DIFFERENT TUNE
The combination of a dovish tune from the Federal Reserve and falling growth expectations have been major drivers that have sent both short-term and longer-term interest rates lower this year, and this trend continued throughout June. The yield on the U.S. 3-Month Treasury Bill fell from 2.339% to 2.086% over the month of June, and the U.S. 10-Year Yield fell from 2.124% to 2.005%.
As a result, both U.S. stocks and bonds posted positive monthly returns for the third time in calendar year 2019, and for the sixth time in the last twelve months. While lower interest rates tend to benefit valuations for risk assets, the dramatic move lower in the U.S. 10-Year Yield has been perceived by many as a reflection of lower growth expectations and greater uncertainty, which almost certainly would not be beneficial for stocks. Despite this, the Russell 1000 posted the strongest one-month return since October 2015 (not including January 2019), and investors have been keenly watching this divergence between stocks and yields continue throughout 2019.
---
Content continues below advertisement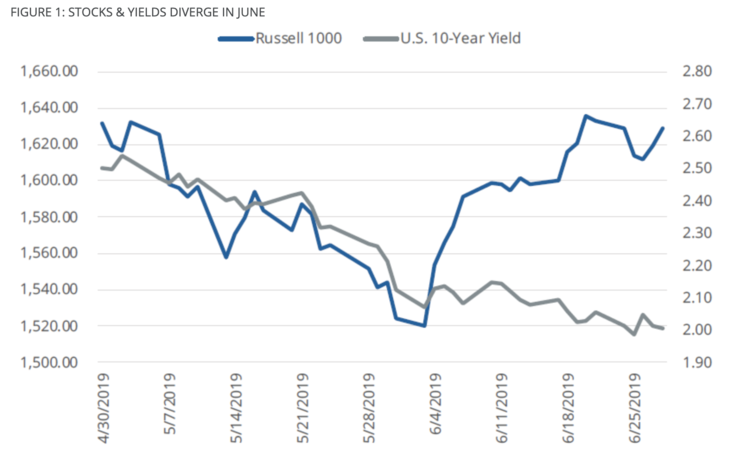 FOMC DOT PLOTS VS. MARKET EXPECTATIONS
The Federal Open Market Committee's dot plot for the June 19 meeting, which is a visual (and anonymous) representation of where FOMC members think rates will be over the short, intermediate, and longer-term, saw seven members cite projections for the implied federal funds target rate lower, down from 2.375% to 1.875%. In other words, seven FOMC members cited for a cut to occur in 2019, which is notably different than where the dot plots stood back in March, when zero members cited for a cut, and six members actually called for at least one hike.
The press conference that followed, led by Chairman Jerome Powell, was a continuation of an overall dovish tone. While there were cues towards being "accommodative" and "standing ready" to "act as appropriate to sustain the expansion," the Federal Reserve still said that it does not expect any rate cuts this year. We viewed the balance between the choice of language and stated FOMC activity as a way for Powell to thread the needle between being overly dovish and realistic. Market participants, however, walked away from the meeting no longer asking "if" but "when, and how much" regarding a rate cut. In fact, the market implied probability for a cut occurring as early as July rose from 48% to nearly 100%2 following the June 19 meeting. We continue to view a rate cut as a key component for risk assets going forward, but acknowledge that the impact of the target range moving 0.25% lower is likely fully priced in.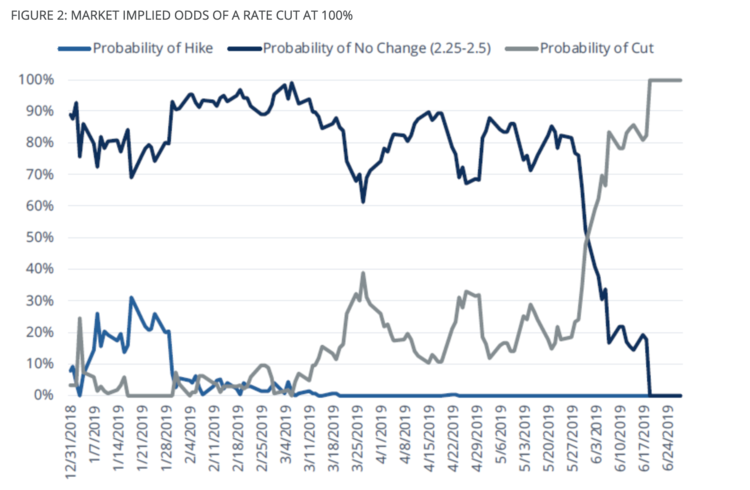 RELATIVE VALUE THEMES
MARKET CAPS AND EQUITY STYLES
Large Caps, which have been winners relative to Small Caps throughout most of Q2, actually underperformed by 0.05% over the month of June. While Small Cap outperformance speaks highly towards a more "risk-on" sentiment in the markets, the relative outperformance was quite small. We view this "outperformance" as more of a confirmation of market-breadth than a return to the type of Small Cap outperformance we saw in January and February.
Value stocks outperformed Growth stocks for the first time in 7 months, but readers may remember that we noted the slowing velocity of Growth outperformance over the trailing 3-months as of the end of May. Again, like Large Caps relative to Small Caps, the relative outperformance was muted; Value stocks gained 7.18% in June while Growth names gained 6.87%, a spread of 0.31%. A slight steepening in the yield curve in June (as measured by the spread between 2-Year and 10-Year yields) benefitted Value stocks relative to Growth stocks, but investors should consider the path of both short-term and longer-term yields as a driver for this
pair going forward. While our model shows that short-term price momentum currently favors Value names relative to Growth, the macroeconomic environment and relative strength in market positioning supports our thesis to continue to be biased towards Growth names for the intermediate term.
CYCLICAL SECTORS LEAD, BUT GIVE AND TAKE CONTINUES
The dynamic between Cyclical Sectors and Defensive Sectors continues to be interesting. While previous months saw Cyclical Sectors leading on the back of the Information Technology sector, the 0.88% relative outperformance throughout June in cyclical names was driven by leadership in the Materials sector. Technology names outperformed the broader market in June, but the leadership via Materials is a good sign of market breadth and recovery in names that have been year-to-date laggards.
The 0.88% spread between Cyclical and Defensive stocks is the second smallest monthly spread on record for the year so far, but the outperformance is notable given the 3.10% underperformance we saw throughout the month of May. Bond proxy sectors such as Utilities and Real Estate were, by far, the largest laggards in June, and were large contributors to the relative performance spread; another sign of a more "risk-on" tune.
THE U.S. CONTINUES TO LEAD, BUT WATCH EMERGING MARKETS…
The theme continues for domestic stocks relative to international equities, as the U.S. outperformed International equities by 1.11% in June, the largest 1-month spread amongst the five pairs. This now marks the fifth such occurrence in 2019, and the ninth monthly outperformance over the last twelve months. Year-to-date, the spread between U.S. and International stocks now stands at 5.13%. Stretching this back to the start of 2018, U.S. stocks have now outperformed International stocks by 15.21%. The market continues to price in heightened risks for international stocks relative to the U.S. that are directly related to trade, as the divergence and its ties to the start of "trade wars" is quite clear in Figure 3.
Emerging Markets (+ 5.98%) outperformed Developed Markets (+ 5.69%) by a mere 0.29% throughout June, but it was the first such occurrence since March. Albeit a muted difference, we attribute the relative outperformance to a weaker dollar in June, where the
U.S. Dollar Index fell below its 200-day moving average following the Federal Reserve meeting on June 19. From most angles, our model remains fairly neutral on Emerging Markets relative to Developed Markets, but short-term price momentum suggests that investors should keep an eye on this recent strength in Emerging Markets, especially if the U.S. dollar weakens.
RELATIVE WEIGHT WINNERS & LOSERS
With relative spreads largely muted across the five equity pairs, most Relative Weight pairs moved up in lockstep in June. Most notably, however, is the continued strength in U.S. over International. We view the cyclical and defensive pair (along with growth and value) as significant proxies for the market's interpretation of risk sentiment. For the U.S. and International pair, a significant, positive development in trade could set the stage for some convergence in performance spread.

MONEY IN MOTION
Unlike traditional ETF flow commentary that includes the entire set of ETFs in a given category regardless of how they are constructed, we focus on ETFs that specifically offer exposure to the intended underlying categories in order to more precisely identify trends. For example, our U.S. Large Cap category only focused on ETFs that seek to track broad-based U.S. Large Cap equities and excludes ETFs that may be exposed to U.S. Large Caps, but have other intended investment goals, such as a style or factor tilt.
GROWTH LEADS VALUE, DEFENSIVES OUTPACE CYCLICALS
While Value ETFs saw net new creations for the second consecutive month (following four straight months of net redemption activity), they still lagged Growth ETFs for the sixth straight month in net activity. Growth ETFs (+ $2.275B) saw $0.652B more in net new flows relative to Value ETFs (+ $1.622B), which was the third strongest month in relative strength year-to-date. We're continuing to watch the month-over-month flows between these two product sets, as growth is the clear leader in flows momentum, but longer-term positioning still shows Value as a notable leader.
While Cyclical sectors led on a performance basis, Defensive sectors saw leadership in flows for the second straight month. Defensive sectors (Consumer Staples, Energy, Healthcare, and Utilities) combined for $2.489B, outpacing Cyclical sectors (Consumer Discretionary, Communication Services, Financials, Industrials, Information Technology, Materials, and Real Estate) by $0.994B
over the month of June. While healthcare flows were the lightest (+ $0.308B), all four Defensive sectors saw net creation activity. Interestingly, all economically sensitive sectors with the exception of Information Technology saw net creation activity, where Information Technology ETFs combined for over $1.025B in net redemptions.
LARGE CAPS EXTEND THEIR LEAD OVER SMALL CAPS
Large Cap ETFs (+ $4.519B) showed strong relative strength in flows compared to Small Cap ETFs (+ $1.243B) in June, taking in $3.276B more in net new flows. While trailing three-month and six-month relative net flows show very little difference between Large Caps and Small Caps, longer-term positioning still leans quite substantially for Large Caps. Year-over-year, Large Caps have seen $21.192B more in net creations relative to large caps. Over the past two and three years, relative strength in flows is $44.173B and $100.124 in favor of Large Caps, respectively, and this pair shows the largest ETF flows differential amongst the five equity pairs.
EM WEAK RELATIVE TO EAFE, U.S. EXPANDS THEIR LEAD OVER INTERNATIONALS
Emerging Markets ETFs haven't seen a monthly lead over Developed Markets since February, and was the only equity segment out of the 10 that saw net redemption activity in June, with five EM ETFs combining for $0.655B in net redemptions. Six EAFE ETFs combined for $0.235B in net creations, which resulted in $0.890B in relative strength in flows for Developed Markets over Emerging Markets. The $13.707B that EM names saw in excess of EAFE names in January and February is looking more and more like an anomaly, as shorter-term flows and longer-term positioning leans notably towards Developed Markets.
While the relative strength in longer-term positioning in Large Caps over Small Caps is the largest across the five equity pairs, positioning in the U.S. relative to International exposures is a close second. In June, this pair saw the largest one-month discrepancy, as ETFs offering broad exposure to the U.S. (+ $6.230B) saw $4.003B more net inflows than ETFs offering broad exposure to international stocks (+ $2.227B). With investors becoming pickier with their allocations, we expect the U.S. to continue to show leadership in flows, especially relative to International names.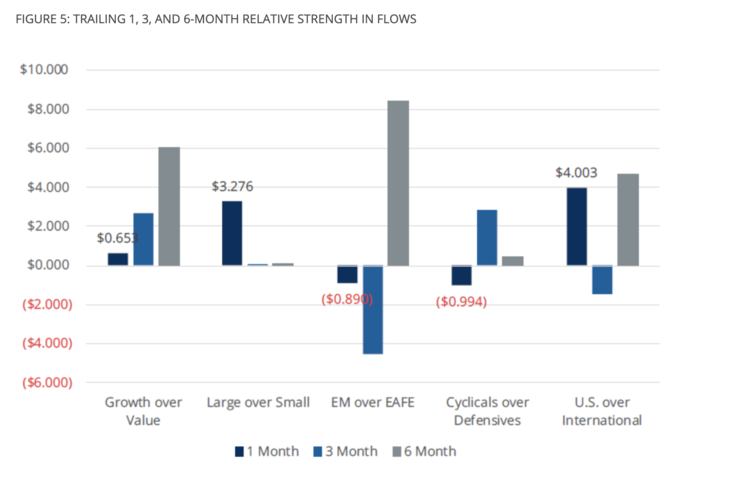 WHERE ARE WE GOING?
Divergences and discrepancies exist among the micro and the macro, and we seem to be nearing inflection points across many different market segments. The months of May and June showed us that while monetary policy is a powerful force behind the year- to-date rally in risk assets, it is quite clear that trade-related headwinds to growth will continue to sway markets. Going forward, trade rhetoric (along with other major geopolitical question marks) will continue to loom over market participants, resulting in an elevated level of uncertainty.
The market's interpretation of these uncertainties has been quite interesting; equity investors and corporations (through the form of buybacks) have pushed the Russell 1000 to all-time highs, while fixed income investors have sent the U.S. 10-Year Yield to levels not seen since 2016. Trade-related pressures have created an environment that is quite different than the one we saw just two years ago, where "synchronized global growth" pushed global risk assets higher in unison. Now, the current "goldilocks" environment seems to be one driven by supportive monetary policy and prospects for resolutions to trade.
Going forward, we expect risk assets to be highly sensitive to monetary policy decisions, the upcoming Q2 earnings season, and developments in trade. Investors should pay attention to how the macro (the U.S. dollar, trade, crude, etc.) and the micro (company specific tailwinds and headwinds) combine for earnings results and forward guidance. Investors should pay attention to the July 31st Federal Reserve meeting, where expectations for a 0.25% cut are likely to remain near 100% throughout all of July. Investors should pay attention to measures of volatility, such as the VIX, and how they react to economic data releases and developments in trade as a clue to how sensitive risk assets are to better-than-expected results, worse-than-expected results, or in-line results.
We remain confident that asset allocations that lean towards U.S. exposures (relative to International) and Growth (relative to Value) will reward investors on a relative basis. And while we remain aware of shorter-term developments in the macro and micro storylines, we continue to watch the trend lines, not the headlines.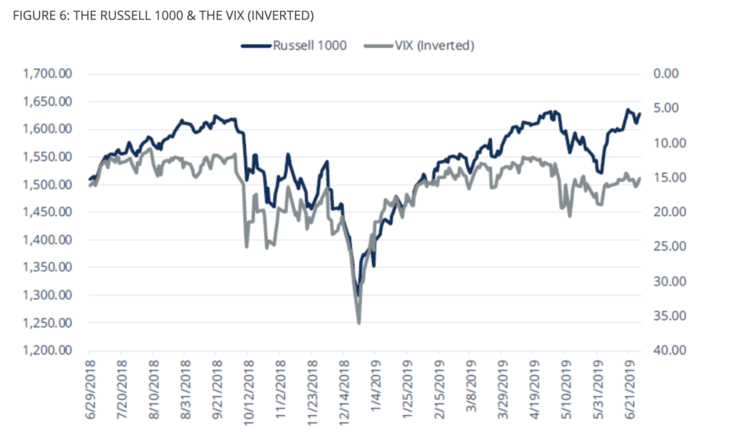 Definitions
Russell 1000: The Russell 1000 Index consists of the largest 1,000 companies in the Russell 3000 Index, which is made up of 3,000 of the largest U.S. companies.
Russell 2000: The Russell 2000 Index is comprised of the smallest 2000 companies in the Russell 3000 Index, representing approximately 8% of the Russell 3000 total market capitalization.
Russell 1000 Growth: The Russell 1000 Growth Index measures the performance of those Russell 1000 companies with higher price-to-book ratios and higher forecasted growth values.
Russell 1000 Value: The Russell 1000 Value Index measures the performance of those Russell 1000 companies with lower price-to-book ratios and lower forecasted growth values.
MSCI USA Cyclical Sectors: The MSCI USA Cyclical Sectors Index is based on MSCI USA Index, its parent index and captures large and mid-cap segments of the US market. The index is designed to reflect the performance of the opportunity set of global cyclical companies across various GICS® sectors. All constituent securities from Consumer Discretionary, Financials, Industrials, Information Technology and Materials are included in the Index.
MSCI USA Defensive Sectors: The MSCI USA Defensive Sectors Index is based on MSCI USA Index, its parent index and captures large and mid-cap segments of the US market. The index is designed to reflect the performance of the opportunity set of global defensive companies across various GICS® sectors. All constituent securities from Consumer Staples, Energy, Healthcare, Telecommunication Services and Utilities are included in the Index.
FTSE All-World ex US: The FTSE All-World Excluding United States Index is a free float market capitalization weighted index. FTSE All-World Indices include constituents of the Large and Mid-capitalization universe for Developed and Emerging Market segments.
MSCI EAFE IMI: The MSCI EAFE Investable Market Index (IMI), is an equity index which captures large, mid and small cap representation across Developed Markets countries around the world, excluding the US and Canada.
MSCI Emerging Markets IMI: The MSCI Emerging Markets Investable Market Index (IMI) captures large, mid and small cap representation across 24 Emerging Markets (EM) countries.
Direxion Relative Weight ETF Risks: Investing involves risk including possible loss of principal. The ETFs' investments in derivatives may pose risks in addition to, and greater than, those associated with directly investing in or shorting securities or other investments. There is no guarantee that the returns on an ETF's long or short positions will produce high, or even positive returns and the ETF could lose money if either or both of the ETF's long and short positions produce negative returns. Please see the summary and full prospectuses for a more complete description of these and other risks of the ETFs.
Distributor: Foreside Fund Services, LLC