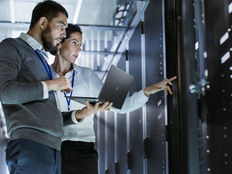 Beyond Basic Beta Channel
Megatrends are powerful, transformative themes that can alter the trajectory of global economies and markets. They can also be accessed by various ETFs, including the iShares Exponential Technologies ETF (XT B).
XT, "seeks to track the investment results of an index composed of developed and emerging market companies that create or use exponential technologies," according to iShares. The ETF tracks the Morningstar Exponential Technologies Index and holds nearly 200 stocks.
The $2.53 billion XT is also a global ETF, featuring exposure to more than a dozen countries, a trait the further shapes its megatrend potential.
"All of us experience megatrends every day—at home while commuting, at work, and in the news. the next big things,' and their potential to shape the future appears to be so obvious that anyone can see it," said BlackRock in a recent note.
The asset manager highlights five megatrends with the potential to cause seismic shifts in the years ahead: emerging global wealth, rapid urbanization, climate change, shifting demographics and technological breakthroughs.
Other Ideas From Megatrends
"We believe megatrends are structural investment trends powerful enough to play out over decades, that they'll endure through the market cycle, and election, or central bank policy shifts," said BlackRock. "We think most investors ought to think about megatrend ETFs as long-term positions, as in, multiple years. That's how we think about megatrends, and that's how our ETFs are designed."
Two other examples of megatrend ETFs include the iShares Cybersecurity and Tech ETF (IHAK B+) and the iShares Genomics Immunology and Healthcare ETF (IDNA B+), which debuted in June.
Related: The 10 Biggest Artificial Intelligence ETFs By AUM
IHAK provides investors access to companies around the world that are helping fight the rise in cybercrime by using cybersecurity solutions across hardware and software. The other, IDNA, seeks exposure to companies worldwide at the forefront of medical revolutions in the rapidly expanding fields of molecular biology and mapping of genomes, and immunology.
"Megatrend ETFs may be appropriate as satellite holdings that have the potential for long-term growth. Of course, they'll have periods of ups and downs, but should be evaluated less on the day-to-day travails of the market and more on an investor's long-term conviction," according to BlackRock.
This article originally appeared on ETFTrends.com
---
Content continues below advertisement