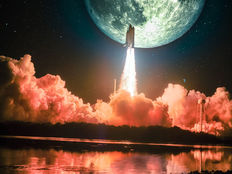 Beyond Basic Beta Channel
While a cryptocurrency ETF is stuck in limbo as regulators continue to scrutinize the newly developed investment class, VanEck and SolidX Management have developed a stopgap to help institutional buyers garner bitcoin exposure through an easy-to-use investment vehicle.
VanEck and SolidX will begin offering shares in a limited capacity of a cryptocurrency ETF-esque investment to Qualified Institutional Buyers under Rule 144A of the Securities Act of 1933, laying the groundwork for an eventual ETF offering if one is ever given regulatory approval.
"We believe investors need a better solution for accessing bitcoin and we'll continue to work towards having a publicly registered product. However, the institutional channel is the only way to make it happen right now, but it is the first step forward," Edward Lopez, Head of ETF Product at VanEck, told ETF Trends.
The new VanEck SolidX Bitcoin Trust will allow institutional investors, hedge funds and even mutual fund managers to buy into an ETF-like vehicle that tracks bitcoins as closely as possible.
Many have already gained indirect exposure to bitcoins through offerings like the Grayscale Bitcoin Trust BTC (GBTC) that trades in the over-the-counter market. For example, Ark Invest founder Catherine D. Wood has included GBTC in the ARK Innovation ETF (ARKK B+), which enjoyed a good tailwind when bitcoins were last surging. However, investors may have noticed that these bitcoin trusts have exhibited high premiums to the underlying bitcoin prices.
Bringing Out Bitcoin Exposure
The VanEck SolidX Bitcoin Trust can fill the smart money's desire to incorporate a bitcoin exposure to a diversified portfolio through a relatively efficient investment vehicle and potentially capitalize on the revolutionary asset class of a digital age.
Cryptocurrencies remain largely unregulated, which has deterred many potential investors. The Securities and Exchange Commission has so far rejected exemptive relief for any attempt to roll out a bitcoin ETF, arguing that there is not enough protection against fraud and market manipulation in the cryptocurrency market.
The new Bitcoin Trust will trade under the SEC's Rule 144A, which allows for the sale of privately held securities to so-called qualified institutional buyers. Shares will provide institutional investors access to physically-backed bitcoin product that is tradeable through traditional and prime brokerage accounts.
Additionally, while the Bitcoin Trust isn't listed on the NYSE, it will trade over-the-counter. It will also be publicly quoted on OTC Link ATS, an SEC-regulated, alternative trading system.
"Institutional demand for bitcoin exposure is uncertain, because institutional quality vehicles simply have not, to this point, been readily available," Jan van Eck, Chief Executive Officer of VanEck, said in a note. "We're introducing a solution for institutions that fit within their operational processes and the current regulatory framework."
The share is also the first cleared product that provides exposure to bitcoin and enabling a standard ETF creation-and-redemption process, which should help shares to more-or-less track bitcoin price moves.
"This is technically not an ETF. It will, however, have authorized participants and an open-end creation and redemption of shares. Which may allow the market price to align closer to NAV," Lopez states.
Related: VanEck And SolidX Take First Steps For Bitcoin-Related ETF Approvals
The continuous, open-end creation and redemption of 144A shares will allow market prices to track the underlying Net Asset Value prices closely over time. Investors will enjoy institutional level prices from institutional trading firms that are calculated by a regulated index firm.
"As the first bitcoin product in the U.S. with standard ETF creation and redemption and established clearing and settlement processes, institutional investors can finally gain exposure to bitcoin within a familiar context," Daniel H. Gallancy, Chief Executive Officer of SolidX, said in a note. "We view the product as an exciting next step for SolidX and VanEck in our partnership as we work to bring institutional-quality crypto asset products to the marketplace."
The trust will also safe keep bitcoin using a multi-factor, cold storage security, plus insurance against loss or theft. The insurance will be provided by an underwriting division from Lloyd's of London.
For more information on the cryptocurrency market, visit our Bitcoin category.
This article originally appeared on ETFTrends.com.
---
Content continues below advertisement