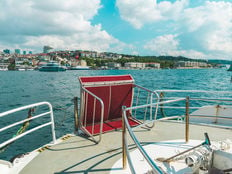 Thematic Investing Channel
Greece ETFs surged Monday after the Mediterranean country's new finance minister revealed sweep tax reforms were a "key priority."
Among the best performing non-leveraged ETFs of Monday, the Global X MSCI Greece ETF (GREK B-), the only ETF dedicated to Greek stocks, increased 4.6%.
Greek markets strengthened after Finance Minister Christos Staikouras told the Financial times that the center-right New Democracy government is planning "a comprehensive tax reform that will have a four-year horizon and will accelerate growth".
The country is trying to bolster growth and rebuild credibility with investors following a decade of international bailouts backed by the European Union and International Monetary Fund.
Specifically, Greece will focus on lowering income and corporation tax, cutting VAT, making tax incentives more efficient for investors and abolishing emergency levies imposed during the Greek debt crisis that were required to meet bailout creditors' standards.
"The fundamental objective is to achieve sustainable high growth rates so as to gradually restore the country's lost wealth," Staikouras told the Financial Times.
Related: Tom Lydon Discusses Currency Hedging ETF Plays on CNBC
The New Democracy party, led by Kyriakos Mitsotakis, took over from the leftwing Syriza party of former prime minister Alexis Tsipras at a snap election last month after promising on the campaign trail to cut taxes, digitize the economy and create new jobs.
"We are taking ownership of the reform agenda . . . we will implement structural reforms in a front-loaded manner," Staikouras added. "We've agreed [with the EU]to accelerate privatizations because we believe they can contribute to sustainable growth rates when . . . they're carried out under conditions of absolute transparency and also include a social return."
Additionally, in September, Greece is expected to lift capital controls, which were previously imposed at the height of the Greek crisis, along with a deal for Athens to repay about one-third of the €8.5bn in bailout debt that it owes the IMF earlier than expected.
This article originally appeared on ETFTrends.com.