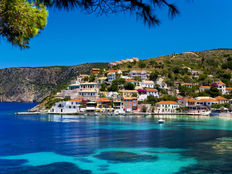 Thematic Investing Channel
Some single-country ETFs tracking ex-US economies have notched impressive returns this year, but few can touch the 42% returned by the Global X MSCI Greece ETF (GREK B-).
GREK has the potential to deliver more near-term upside. As been previously noted, an improving political environment has been a boon to GREK and Greek financial markets.
"While Europe's equity benchmark is set to record its best annual gain since 2009, it's been left in the dust by the top stock market worldwide: Greece. The country's shares have climbed 45% this year, rising from a low base after a decade of crises. As Greek stocks get out of the doldrums, fund managers may start looking at the market again," according to Bloomberg.
GREK seeks to provide investment results that correspond generally to the price and yield performance, before fees and expenses, of the MSCI All Greece Select 25/50 Index. The underlying index is designed to represent the performance of the broad Greece equity universe.
Get on the GREK Train
"You have to go back to the time before the euro replaced the drachma to find higher returns in the Greek equity market, and there are reasons to be optimistic about the coming year, particularly if the economy continues to improve," reports Bloomberg
Looking ahead, the new government is less likely to undo some structural reforms that have been undertaken in the past. Furthermore, the risk of higher labor costs, less labor market flexibility and erosion of wage competitiveness would decline under a New Democracy-led government.
Indeed, recent political change has bolstered the case for GREK and Greek equities.
"Momentum for Greece accelerated after the summer election, according to George Lagarias, chief economist at Mazars Financial Planning, as the new government showed its willingness to implement a package of tax cuts and pro-business policies. That has reduced some of the discount that Greek risk assets were trading at, he says," reports Bloomberg.
Te Greek economy has consistently been improving over the past couple of years and the country recently, to the surprise of some market observers, issued negative-yielding debt, meaning investors are paying for the privilege of owning those sovereign bonds. Importantly, signs continue emerging that Greek banks are firming.
Additionally, in September, Greece is expected to lift capital controls, which were previously imposed at the height of the Greek crisis, along with a deal for Athens to repay about one-third of the €8.5bn in bailout debt that it owes the IMF earlier than expected.
This article originally appeared on ETFTrends.com.
---
Content continues below advertisement