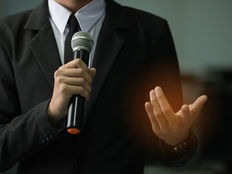 2018 Inside ETFs Conference
The 2018 Inside ETFs Conference will take place in Florida between January 21 and January 24.
As in past years, ETF Database will be covering in-depth the landmark event in the ETF industry to keep our readers informed on the latest developments in the sector. Among notable speakers at the conference are Mohamed El-Erian, Chief Economic Advisor at Allianz Global Investors; Tim Buckley, President and Director at Vanguard; and Serena Williams, professional tennis player.
Day One – January 21
The first day of the conference will start at midday with four short discussions spanning the ETF industry's public relations challenge – with more negative press than positive, bitcoin ETFs, opportunities in Europe, and ways to launch and grow an ETF. After a short 20-minute break and a brief discussion about the future of active ETFs, a four-person panel will discuss the implications of the newly launched Mifid II rules for the ETF industry. The day will end with a short presentation about five ETF trends in 2018 by BNY Mellon's CEO of ETFs, Jeffrey McCarthy.
---
Content continues below advertisement
Day Two – January 22
The second day of the conference will see Mortimer J. Buckley, President and CEO of Vanguard, delivering a keynote address on the impact of technology on the intermediary market. Buckley's speech will be followed by a six-person panel discussion headed by CNBC's Bob Pisani about where to invest in the next three years. After that, prominent figures in the ETF industry will each present their best new ETFs launched in 2017.
After a brief networking break, Financial Times' U.S. markets editor Robin Wigglesworth will head a panel discussion about the future of the ETF industry. Following that, New York Stock Exchange President Tom Farley will answer ten questions on a similar topic – the future of the markets. After lunch, four track sessions will address issues ranging from emerging markets to ESG strategies to delivering alpha in an ETF. The last part of the day will largely focus on broad aspects of markets, including data and technology in the investment industry and active management.
The day will end with a speech by Allianz's Chief Economic Adviser, Mohamed El-Erian, who will try to answer the question of whether we are in a bubble.
Day Three – January 23
DoubleLine's Deputy Chief Investment Officer Jeffrey Sherman will kick off the third day of the conference with a keynote address on what the future holds for equity and fixed-income investors. Right after Sherman's speech, ETF Trends' publisher and editor Tom Lydon will get technical with a five-person panel and discuss the strategic implementation of factor-based ETFs. After a coffee break, attendees will witness another panel discussion on bond ETFs and active strategies for rising interest rates.
At midday, Bain Capital Ventures Managing Director Matt Harris will moderate a two-person debate on bitcoin, cryptocurrencies and the future of finance. Before the track sessions of the day, CNBC's Pisani will sit and talk with State Street executive Jim Ross, who will delve into how it was to bring the first ETF to life 25 years ago – namely the S&P 500 ETF (SPY A). The four sessions tracks will address a number of topics, including multifactor strategies, commodities and real estate, big data in the investing world and hedging strategies.
After a networking break, an eclectic panel of successful people, including record producer Quincy Jones and prominent American economist Alan Krueger, will talk about creativity, disruption and investing. The closing keynote will be delivered by Serena Williams, winner of 37 Grand Slam Singles titles, and Barry Ritholtz, Chairman and Chief Investment Officer at Ritholtz Wealth Management.
Day Four – January 24
The last day will be short, starting early morning with a speech by Research Affiliates' Chairman Rob Arnott about common pitfalls in smart beta. A Nuveen executive will follow with a talk on ESG and why it leads to creation of value. The morning will conclude with bond manager PIMCO delivering its macroeconomic outlook and the importance of active management in bond portfolios. After a short networking break, the final three discussions will focus on ways to eliminate the tail risk, emerging markets and artificial intelligence in the investing world.
The Bottom Line
The Inside ETFs Conference is a must-attend event for all current and aspiring investors. In addition to valuable insights into the ETF industry and global trends in investing, attendees will have the possibility to build new business relationships. The four days will address a broad range of topics concerning the ETF industry and the investment world.