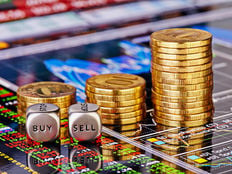 2017 was a record-setting year for equities, as the Trump effect prolonged a massive bull market that continues to defy calls for a broad correction.
Perceived risks tied to geopolitics, the economy and corporate earnings failed to materialize, which dragged market volatility to its lowest level in history. Although 2018 is expected to see a continuation of these trends, a reduced reward for risk could lead to periodic pullbacks in the market.
Outlook on Risk-Adjusted Returns
In finance, risk-adjusted returns measure how much money an asset generated relative to the amount of risk assumed over a given period. In general, investments that assume the lowest risk have a better risk-adjusted return. However, this is only desirable if the return is sufficient enough to meet your underlying goals. Fund management is all about balancing risk and opportunity to generate optimal returns for investors.
With that in mind, the next 12 months are expected to see a reduced reward for risk, making markets more prone to volatility. In practical terms, this means more temporary selloffs, sector rotations and wholesale shifts to so-called risk-off assets. Although these trends likely won't undermine the bull market, they will elevate the need for risk management.
The Chicago Board Options Exchange (CBOE) Volatility Index has long been used by Wall Street to gauge the level of anxiety in the market. Though the VIX remains well below its historic average, it has demonstrated unexpected resilience through the first month of the year. This normally wouldn't be noteworthy if it wasn't for the fact that the S&P 500 Index has hit record highs almost every day since the new year. As a refresher, VIX normally trades in the opposite direction of the S&P 500, with conventional wisdom stating that volatility should drop when stocks rise.
---
Content continues below advertisement
The Shift to Fixed Income
Against this backdrop, fixed income assets serve as an important buffer to volatility. ETFs with fixed income exposure track indices composed of individual bonds and pay regular dividends or interest regardless of the market cycle or underlying volatility. Fixed income ETFs have the added benefit of long-term success generating regular income and are much more affordable than typical bonds or mutual funds. With total assets exceeding half a trillion, the market for U.S. fixed income ETFs is growing significantly.
Some of the most prominent examples of fixed income funds include the Schwab U.S. Aggregate Bond ETF (SCHZ A), the iShares Core U.S. Aggregate Bond ETF (AGG A) and the Vanguard Total Bond Market ETF (BND A).
Low volatility ETFs can also help smooth the ride for investors looking to hedge against uncertainty. The iShares Edge MSCI Minimum Volatility USA ETF (USMV A+) selects mostly large-cap stocks with the lowest perceived volatility. No stock in the basket carries a weight of more than 1.6%, so overexposure is no issue. The PowerShares S&P 500 High Dividend Low Volatility Portfolio (SPHD C+) has the added benefit of delivering regular income in addition to safeguarding against volatility.
Amid domestic uncertainty, investors may also benefit from exposure to fast-growing emerging markets. Developing Asia, Africa and Latin America are all generating faster economic growth and experiencing a corporate earnings recovery. In terms of total assets under management, the Vanguard FTSE Emerging Markets ETF (VWO A+) is the biggest. The VanEck Vectors India Small-Cap ETF (SCIF C) also provides exposure to the fastest-growing major market. Besides, the International Monetary Fund (IMF) expects India's economy to grow more than 7% annually over the next two years.
A combination of fixed income, low volatility and emerging market funds could help investors prepare for a turbulent ride in domestic markets. These funds will also help portfolios weather an unexpected downturn. With the bull market entering its ninth year, investors are beginning to question the rationale for the rally.
Of course, it is also possible that the bull market continues on a similar trajectory as 2017. This certainly appears to be the case through the first month of the year. In this environment, exposure to fixed income and low volatility funds would have less apparent value. That being said, investors looking to prepare for the future should still consider a combination of these assets. After all, the longer the bull market endures, the greater the perceived risk of a broad pullback in the equity markets.
The Bottom Line
2018 is shaping up to be another positive year for Wall Street, but the path forward is expected to be much rockier as investors weigh valuation risks, political uncertainty and an economy that is still vulnerable to setbacks. With this in mind, it pays to be prepared. A portfolio with exposure to fixed income and low volatility funds could help smooth the ride.