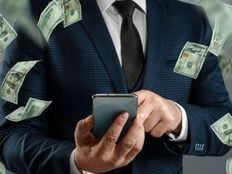 An Investment Executive article featured a report by ISS Market Intelligence, which noted that active management will still account for the majority of the investment industry's market revenues despite diminishing market share.
Passive management has overtaken active management in terms of market share, offering investors cost-efficient, set-it-and-forget-it methodologies. Still, that doesn't mean there's no room for active management strategies that offer dynamic exposure to various asset classes.
"Active managers may continue to lose market share to passive investment vehicles, but they will continue to account for the bulk of industry revenues, according to a new report from ISS Market Intelligence," the article said. "Over the next five years, index funds are projected to capture a growing share of U.S. long-term assets under management (AUM), reaching 55.6% of AUM by 2027, the report said."
The popularity of passive management over the past decade has led to its market share dominance, but more investors are reconsidering active management again. That's especially the case if fees continue to drop, allowing them to compete with their less expensive counterparts.
Even if they won't recapture market share, the ISS report noted that over the next five years, active management will comprise a sizeable portion of revenues.
"At the same time, active fund assets are expected to grow only half as quickly, rising at just a 3.5% average annual rate," the article added. "In particular, active U.S. equity mutual funds are only projected to grow at a 0.8% average annual rate, it (the ISS report) noted."
"While no longer the industry's growth engine, active management will still be its biggest money maker," the report said.
According to the article, active managers are able to generate more revenue per dollar of assets under management (AUM) versus 10 years ago. Passive products have fallen over 33%, while active funds have fallen around 10%, the article noted.
Active Options From T. Rowe Price
One way to reap the benefits of active management while still controlling costs is via exchange traded funds — as part of its lineup of active ETFs, T. Rowe Price offers a suite of actively managed equity ETFs, including the T. Rowe Price Blue Chip Growth ETF (TCHP C+), the T. Rowe Price Dividend Growth ETF (TDVG B), the T. Rowe Price Equity Income ETF (TEQI B), the T. Rowe Price Growth Stock ETF (TGRW C), and the T. Rowe Price US Equity Research ETF (TSPA B-).
T. Rowe Price has been in the investing business for over 80 years through conducting field research firsthand with companies, utilizing risk management, and employing a bevy of experienced portfolio managers carrying an average of 22 years of experience.
For more news, information, and analysis, visit our Active ETF Channel.
---
Content continues below advertisement