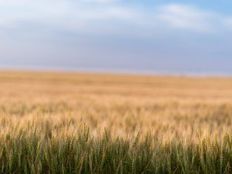 With the ongoing conflict in Ukraine, the world is looking to other suppliers of wheat, including the United States. Improving grain-growing conditions in Texas should help keep wheat prices going strong.
According to a Farm Progress article, "Circumstances are improving for Texas grain producers as spring plantings get underway in southern parts of the state, according to a Texas A&M AgriLife Extension Service expert." Per data from Macrotrends, wheat prices hit a high of $12.78 per bushel in mid-May, trending higher after Russia invaded Ukraine near the end of February.
Since then, Russia's occupation of the Black Sea has crimped Ukraine's wheat exports, which exacerbated a global food shortage. As mentioned, the world is continuously looking towards other wheat supplies, including the U.S., and favorable climate conditions are imperative in order to meet that demand.
"I do think the moisture improvement favors grain production," said Mark Welch, AgriLife Extension grain market economist. "Some areas need more rain before planting, but most producers are going to plant grain or cotton depending on their rotation schedule. It's good for growers to have options and moderated input costs creates more room for potential profit."
Get Wheat Exposure in 1 ETF
Economic policy, particularly in the current times when high inflation is rampant, will continue to define market conditions, regardless of the asset class. There's no telling what the U.S. Federal Reserve will do with respect to interest rate policy, and they've already acknowledged that getting inflation under control will not be an overnight task. That said, agricultural commodities can offer that hedge should prices continue to keep on rising.
Furthermore, agricultural commodities like wheat offer investors alternative exposure to traditional assets in a portfolio like stocks and bonds. They can provide exposure to an asset that's largely uncorrelated to stocks or bonds, offering portfolio diversification.
Additionally, rising wheat prices should benefit ETFs that focus on the commodity, such as the (WEAT C). As mentioned, the fund can be used as an ideal inflation hedge as prices continue to rise alongside rising commodity prices, or investors can use the fund to add commodities to their portfolios for diversification.
For more news, information, and analysis, visit the Commodities Channel.
---
Content continues below advertisement