Even as the cryptocurrency market recovers from 2022, proposed regulation is starting to trickle into 2023. This time, it's from the House of Representatives.
Bloomberg delved into a new bill introduced in Congress that would allow the crypto market to come under the same regulatory framework that oversees commodities. The bill comes after the 2022 bearish run in the cryptocurrencies saw exchanges like FTX collapse. This disaster amplified the call for more regulation.
"Republican chairs of two key House committees released a draft bill that would offer a pathway for digital assets that begin as securities to eventually be regulated as commodities," Bloomberg reported.
The introduction of the bill sets the foundation for Congress to discuss how best to regulate the crypto market. From the government to the private sector, it's a solid foundation on which to build potential regulation.
"The draft legislation was unveiled Friday by House Financial Services Committee Chairman Patrick McHenry and House Agriculture Committee Chairman Glenn Thompson," the report said further. "The bill on market structure is meant to act as a jumping off point for discussions between Republicans and Democrats on the two committees, as well as with the Senate, regulators and the private sector, senior staff familiar with the drafting of the proposal said."
In the meantime, more regulatory pressure isn't hurting bitcoin's bull run thus far this year. The leading cryptocurrency is up over 60%, easily trouncing the S&P 500's 12% year-to-date gain.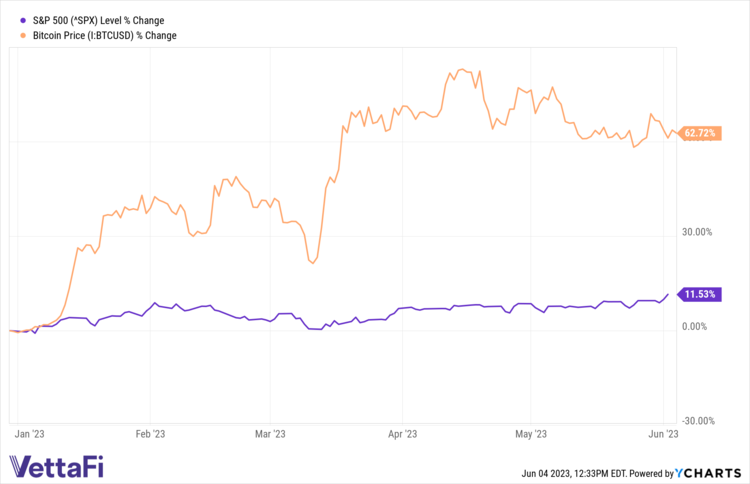 De-Dollarization Feeding Into Bitcoin's Price
Bitcoin's 2023 bull run has also been fed by speculation that the dollar cannot remain the world's reserve currency. The spate of bank rescues this year challenged the stability of the financial system. This provided economists with enough fodder to postulate on whether the dollar still reigns.
A recent Bitcoin Magazine article, for instance, pointed out that other countries are starting to strike deals for settling trades in fiat currencies other than the dollar. For example, French president Emmanuel Macron suggested that Europe reduce its dependence on the U.S. dollar.
"The yuan is now the most-traded currency in Russia while China and Brazil recently struck an agreement to settle trades in the yuan and real instead of in dollars," Bitcoin Magazine said. "Meanwhile, Malaysia is making similar deals with both India and China."
For more news, information, and analysis, visit the Crypto Channel.
---
Content continues below advertisement