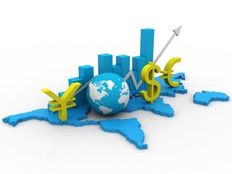 Many exchange-traded funds (ETFs) focusing on developing and emerging markets have lost value this year. For example, the iShares MSCI Emerging Markets ETF (EEM A-) is down 10% year-to-date through October 8. By comparison, the S&P 500 Index is down just 3% in the same time. Aside from fears of economic slowdowns in emerging markets such as China, one of the biggest reasons for the relative underperformance of emerging-market ETFs is the strengthening U.S. dollar.
The U.S. dollar has risen sharply this year against a basket of most international currencies. This has amounted to a significant headwind for ETFs that focus on developing markets. As a result, investors should consider currency hedging when evaluating ETFs that invest in emerging markets. It is possible to purchase currency-hedged ETFs to help mitigate currency risk.
Currency Exposure Hurts Emerging-Market ETFs
The rising U.S. dollar has created a high level of currency risk for many internationally focused ETFs. As fears of declining economic growth spread, investing in emerging markets is looking increasingly risky. Investors may not have anticipated this risk at the beginning of the year, when the strong U.S. dollar was not a big issue. But for investors who believe the strong dollar environment may be here to stay for the foreseeable future, fortunately, there is a way to hedge against risk.
For example, an investor may want to invest in Russia, one of the high-profile emerging nations and a member of the BRIC group (Brazil, Russia, India, and China). However, that investor may not desire exposure to the Russian ruble, which has weakened considerably throughout 2015. A convenient solution to this would be to invest in currency-hedged ETFs.
Using the example mentioned above, an investor who purchased EEM at the beginning of the year would have lost 10% so far. However, there are a number of currency-hedged ETFs issued by the same company that allow for reduced currency risk. The currency-hedged alternative to EEM is the iShares Currency Hedged MSCI Emerging Markets ETF (HEEM). This ETF seeks similar equity market exposure as the EEM fund but also employs currency-hedging techniques to reduce exposure to foreign exchange fluctuations.
The ETF was developed by MSCI as an equity benchmark for global emerging-markets stock performance, with the benefits of having the currency risk of the securities included in the underlying index hedged against the U.S. dollar. This strategy has worked well for investors because by purchasing the HEEM ETF at the beginning of the year instead of EEM an investor would have suffered half the losses so far this year.
---
Content continues below advertisement
The Bottom Line
Emerging markets were previously thought to be the best opportunity for investing in countries with above-average growth potential. However, the strengthening U.S. dollar has severely impacted that thesis. Fortunately, there are a number of currency-hedged ETFs that can reduce an investor's exposure to foreign exchange risk and still offer exposure to higher-growth, under-developed nations.
Image courtesy of sheelamohan at FreeDigitalPhotos.net