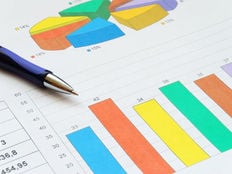 Over the years ETFs have become the vehicle of choice for accessing a wide range of asset classes, from traditional stocks and bonds to more "exotic" strategies such as commodities and hedge fund-like positions. So it is no surprise that there are now dozens of dividend-focused ETFs designed to deliver cheap, efficient, and targeted exposure to companies that make cash distributions to shareholders.
Dividend Weighted ETF Strategies
One of the more popular ETFs, the SPDR S&P Dividend ETF (SDY B) has perhaps the most stringent requirements for inclusion among all dividend-focused funds. In order to be included in the underlying index, companies must have raised their dividend for at least 25 consecutive years. That lengthy period of time stretches across all types of markets–including multiple recessions–meaning that any company that has managed to steadily increase payouts is likely on a firm foundation.
SDY is a unique, innovative product; it offers exposure to a basket of established, stable companies with long track records of boosting cash payouts to shareholders. But it's worth noting that SDY doesn't include some of the biggest dividend payers out there, because many of the companies that make the most substantial distributions have relatively short histories of doing so.
It's interesting to compare SDY to the WisdomTree Total Dividend Fund (DTD A), an ETF that is linked to a dividend-weighted index. That means that the allocations to individual stocks are determined based on cash dividends paid.
The following table shows a comparison of the top ten components of DTD and SDY and their respective dividend yields (please note that all data is as of April 8, 2015):
---
Content continues below advertisement
| DTD Top 5 Holdings' Weight | Dividend Yield | SDY Top 5 Holdings' Weight | Dividend Yield |
| --- | --- | --- | --- |
| Apple Inc (AAPL): 2.99% | 1.50% | AT&T Inc (T): 2.58% | 5.76% |
| Exxon Mobil Corporation (XOM): 2.75% | 3.27% | People's United Financial Inc (PBCT): 2.14% | 4.37% |
| Verizon Communications Inc (VZ): 2.33% | 4.47% | Realty Income Corp (O): 2.09% | 4.49% |
| AT&T Inc (T): 2.31% | 5.76% | HCP Inc (HCP): 2.09% | 5.13% |
| Microsoft Corp (MSFT): 2.12% | 3.01% | National Retail Properties Inc (NNN): 1.88% | 4.10% |
| General Electric Co (GE): 2.11% | 3.68% | McDonald's Corp (MCD): 1.86% | 3.53% |
| Chevron Corp (CVX): 1.99% | 4.00% | Chevron Corp (CVX): 1.77% | 4.00% |
| Johnson & Johnson (JNJ): 1.80% | 2.80% | Consolidated Edison Inc (ED): 1.56% | 4.30% |
| Wells Fargo & Co (WFC): 1.76% | 2.59% | Nucor Corp (NUE): 1.55% | 3.13% |
| Pfizer Inc (PFE): 1.76% | 3.23% | Cullen/Frost Bankers Inc (CFR): 1.47% | 2.98% |
As shown above, nine of DTD's top ten dividend-paying companies aren't found in SDY. And in some cases, they won't be eligible for inclusion for quite a while. Microsoft didn't pay a dividend until 2003, meaning that the company that paid out billions in distributions each year can't be added until at least 2028.
Be sure to try our Free ETF Stock Exposure Tool.
It's a similar story for Pfizer; the pharma giant had steadily increased its dividend between 1982 and 2008, only to slash payouts in 2009 in an effort to preserve cash. So one of the most popular dividend stocks is now on the outside of SDY looking in–and will remain there for at least two more decades.
See also the High Yield ETFdb Portfolio.
Dividends vs. Dividend Yield vs. Dividend Consistency
It should be noted that neither DTD nor SDY necessarily focuses on high yielding stocks; the former holds the companies that make the largest total distributions (regardless of yield) while the latter holds a portfolio of the most consistent dividend payers. In many cases, the stocks that offer the most attractive dividend yields have total payouts that are dwarfed by mega cap stocks and have not been consistently increasing dividends for more than two decades.
In other words, there are different types of "dividend stocks" out there, each of which may be appropriate for different investors. So it is perhaps most appropriate to think of DTD as a "dividend-weighted ETF" and SDY as a "consistent dividend ETF".
The Bottom Line
As mentioned above, SDY is a very innovative product and one that has a wide variety of applications in investor portfolios. But it might be surprising to learn that some of the biggest payers of dividends out there aren't found in the underlying portfolio at all, and are in many cases decades away from being eligible for inclusion. Yet another reminder to take a look under the hood of any potential investment, and research the various options out there.
Disclosure: No positions at time of writing.