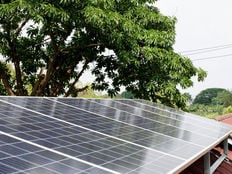 The Responsible Investing Channel
If current U.S. President Donald Trump is unable to secure another four years in office, a presidency under Democratic hopeful Joe Biden could charge up clean energy exchange-traded funds (ETFs). ETF investors looking to bet on a "blue wave" could look to certain funds should Biden win the forthcoming election.
"The other area we're watching is clean energy," said Will Geisdorf, senior research analyst with Sarasota, Florida-based Allegiant Private Advisors in a MarketWatch article. "Even without support from a Democratic Senate I think clean energy could benefit a lot. Just like Trump did a lot through executive orders, Biden could do the same."
Per the report, "Geisdorf likes the iShares Global Clean Energy ETF (ICLN A+), a fund that's tracked Biden's fortunes in the polls relatively closely over the past year. 'It's perked up again in the past few weeks,' as Biden's lead over President Donald Trump seems to have solidified, Geisdorf said in an interview. That said, 'It's run up quite a bit so you may not see as much follow-through there. There might be more upside potential for infrastructure than clean energy.'"
ICLN seeks to track the S&P Global Clean Energy Index. The index is designed to track the performance of approximately 30 clean energy-related companies.
Here are additional funds to consider in the clean energy space:
---
Content continues below advertisement