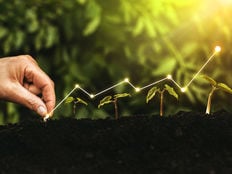 While a slew of exchange traded funds offer exposure to smaller stocks with growth profiles, investors have long embraced large- and mega-cap equivalents.
That's consistent with market participants' long-running biases toward larger companies and perhaps the result of the previous bull market — one in which big growth stocks were market leaders for years on end. There's also the comfort familiarity provided by the likes of (AAPL), (MSFT), (AMZN) and other stocks of that ilk.
However, that doesn't mean investors can't locate compelling growth opportunities outside of the large/mega-cap arena. Consider the (QQQJ B). QQQJ is a "junior varsity" exchange traded fund in that its holdings are the stocks best positioned to eventually join the Nasdaq-100 Index (NDX) — the home benchmark for Apple, Microsoft and friends.
The average market value of QQQJ's 105 components is $18.5 billion. While that skews toward the high end of mid-cap territory or, arguably, the lower end of the large-cap realm, it's still far below the average market capitalization of the members of the (QQQ B+) and the (QQQM B).
In the case of QQQJ, smaller, relatively speaking, could be better because some experts see underappreciated opportunity in the mid-cap arena.
"US Mid Cap Growth appears to be an attractive means of narrowing our portfolio's Growth underweight after we missed the Mega Cap Growth trade driving the large cap indices during Q1. Its blend of attractive fundamentals and solid growth outlook fit our model portfolio's quality and defensible growth theme," wrote Citi strategist Scott Chronert in a recent report.
The $728.7 million QQQJ, which turns three years old in October, was among several mid-cap ETFs highlighted by Chronert. True to its Nasdaq-100 DNA, QQQJ has an obvious growth profile, as highlighted by a 32.63% allocation to the technology sector.
That growth purview is enhanced by a more than 25% weight to healthcare stocks. The bulk of QQQJ's holdings from that sector are biotech names, which speaks to the ETF's growth status. Another point in QQQJs' is holding's level diversification.
"The combined weight of AAPL + MSFT in the Russell 1000 Growth index is nearing 25%. Each individual weight is over 10%, the first time two names have held that kind of influence in the benchmark using 28-years of data," Strategas ETF strategist Todd Sohn wrote in new report.
Conversely, QQQJ's largest holding, which (ON), commands a weight of just 2.33%.
For more news, information, and analysis, visit the ETF Education Channel.