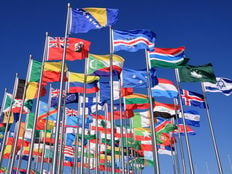 The first exchange-traded fund made its Wall Street debut in 1993, and more than two decades later, investors now have more than 1,600 products to choose from.
Outside of U.S. markets, several countries have also embraced ETPs. Currently, there are more than 5,000 exchange-traded products across the globe, from over 216 providers on 61 exchanges. Below, we take an in-depth look at the ETF industry outside the U.S. (all data as of March 2015, courtesy of ETFGI):
ETPs by the Numbers
| Country | # ETFs & ETPs | #Total Listings | Assets (in US $ Millions) |
| --- | --- | --- | --- |
| US | 1687 | 1687 | $2,093,276.00 |
| UK | 710 | 1601 | $196,775.00 |
| Israel | 622 | 622 | $33,026.00 |
| Germany | 587 | 1802 | $151,073.00 |
| Canada | 357 | 505 | $65,515.00 |
| France | 320 | 464 | $68,301.00 |
| Switzerland | 292 | 1175 | $60,909.00 |
| South Korea | 179 | 179 | $18,685.00 |
| Japan | 155 | 210 | $109,303.00 |
| Italy | 108 | 928 | $6,944.00 |
---
Content continues below advertisement
The table above highlights the top ten largest ETF markets across the globe, ranked by the number of ETF and ETP listings. Currently, Germany has the most primary and secondary listings of exchanged-traded products. In terms of assets, however, the U.S. still dominates:
Combined, ETF assets across the globe total over $2.9 trillion. European ETFs alone account for roughly 16%, while ETPs from Asia Pacific account for approximately 7%. To further put into perspective the sheer size and scope of the ETF industry (particularly in the U.S.), here is a look at how assets across regions stack up:
Top ETF Markets Outside the U.S.
United Kingdom
The London Stock Exchange has roughly 1,500 listings of exchange-traded products. In April of 2000, iShares listed the U.K.'s first ETF on the London Stock exchange, tracking the FTSE 100 Index. The majority of ETP users in the U.K. are institutional investors; analysts, however, believe that as average investors become more familiar with ETPs, the U.K. will likely follow the same trajectory as in the U.S., where more and more retail investors begin to embrace ETPs. A list of the LSE's largest ETF issuers can be found here.
Germany
Germany has over 1,800 exchange-traded products listed on Xetra. According to Deutsche Borse Group, Xetra was Europe's first trading venue and currently holds a market share of 35%, making it the leading ETP trading platform in Europe. Be sure to visit Xetra's website to learn more about their ETF market.
Japan
Though Japan's Tokyo Stock Exchange only has only about 210 ETPs listed, the country is currently ranked fourth in terms of total ETP assets. The first exchange-traded product began trading on the TSE in 1995; in 2012, the exchange listed its first leveraged and inverse ETFs.
France
With over $68 billion in total ETF assets and more than 450 product listings, France is home to one of the largest ETP markets in Europe. Exchange-traded products first began trading in Paris in 2001, and since then the ETP market has grown. Recently, Euronext Paris introduced its NAV Trading Facility, making it the first exchange to offer a regulated on-exchange forward pricing solution for order execution at Net Asset Value (NAV).
Canada
Canada is currently home to more than 500 exchange-traded products, with total assets under management of more than $65 billion. According to the Toronto Stock Exchange (TSX), the world's first successful exchange-traded, index-linked product was listed on Toronto Stock Exchange (TSX) in 1990. Since then, the Canadian ETF industry has grown significantly.
The Bottom Line
Though the U.S. still dominates the ETF space, several countries have also come to embrace ETPs. If the industry continues on its upward trend, more and more investors worldwide will be able to take advantage of the easy and low-cost investment vehicles.