It wasn't always a glamorous life. The TV persona and financial powerhouse that is Kevin O'Leary faced, and overcame, many challenges in his life to get to where he is today.
Early Life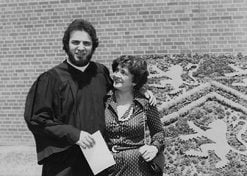 O'Leary was born in 1954 to a father of Irish descent and a mother of Lebanese descent. His parents divorced when he was a child, and his father died only a few short years later. His mother, Georgette, helped run a successful children's clothing store called Kiddie Togs that her father had started. In addition to running the business she also worked as the store's seamstress.
As a teenager, O'Leary experienced his first and most important business lesson at an after-school job at an ice cream shop in Montreal. On his second day of work his boss asked him to get on his knees and clean the gum off the floor. When O'Leary refused he was immediately fired. He had never realized how much control someone could have over him and vowed from that point on to be self-employed and the manager of his own destiny.
He later earned a degree in environmental studies from the University of Waterloo and an MBA from the University of Western Ontario.
---
Content continues below advertisement
Business Career
After university, O'Leary dabbled in companies such as Nabisco as an assistant brand manager, where he helped to sell and increase the company's market share of cat food. O'Leary also co-founded a TV production company called Special Event Television, or SET. He later sold his stake in SET for $25,000 to one of his partners. However, his biggest break came when he established SoftKey Software Products in 1986. He, along with two partners, turned the product into a viable business software package for printer manufacturers.
By 1994, the business had changed and O'Leary's company was in acquisition mode, having acquired many educational software products. In 1995, Softkey acquired The Learning Company for $606 million, took on the name, and moved to Boston. The Learning Company was later sold to Mattel in 1999 for $4.2 billion (although sales dropped immediately afterwards).
O'Leary moved on and invested in Storage Now, a leading developer of storage facilities. Many pharmaceutical and technology companies used the facilities due to their climate-control features.
Financial Career
In 2007, O'Leary joined the advisory board of Genstar Capital; the private equity firm focuses on investment in life sciences and health care. The next year, 2008, he started O'Leary Funds, a mutual fund company that looks for global yields investments.
He has also started O'Leary Ventures, a private early-stage venture capital investment company, O'Leary Books, which began in 2011 and publishes the "Cold Hard Truth" series, and O'Leary Wines.
In July of this year O'Leary started an exchange-traded fund, OUSA (OUSA B+), through O'Shares Investments – a division of O'Leary Funds Management. Read more about the launch here.
Television Career
Of course, O'Leary's name is synonymous with business deals and his TV persona "Mr. Wonderful." He has been a fixture of the television landscape as a commentator on such shows as Squeezeplay and The Lang & O'Leary Exchange. Also, before becoming "Mr. Wonderful" on Shark Tank, he served as a "dragon" on the Canadian version – Dragons' Den.