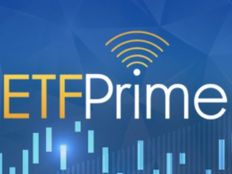 On the most recent episode of ETF Prime, host Nate Geraci was joined by VettaFi's associate director of research Roxanna Islam who took a stroll through the e-commerce aisles and highlighted ETFs within the space. Dave LaValle, global head of ETFs at Grayscale, gave updates on the firm's lawsuit against the SEC and discussed the Grayscale Bitcoin Trust (GBTC), and then Marissa Ansell, lead client PM for thematic investing at Goldman Sachs Asset Management, closed out with a discussion on their approach to active management and thematic investing.
Even for advisors and investors that don't have targeted allocations to e-commerce, Geraci notes that it's an area with many macro considerations because it reveals how inflation and the broader economy are affecting consumers, particularly given e-commerce's continued market share growth.
"E-commerce has been growing at a faster pace than retail sales on a year-over-year basis as far back as 4Q 1999," explained Islam. "Obviously we saw a lot of that peak during COVID and that's when many of these investors got excited but like with most things, when we see a pull forward of that magnitude, that's not really a sustainable growth-rate."
Although e-commerce growth has slowed since the height of the pandemic, market share is still gaining at a faster rate than pre-pandemic: Islam estimates that Q4 2022 e-commerce sales will make up about 15% of retail sales, though hard data will not be out until mid-February. Given the continued overlap of retail and online sales through options such as "buy online and pick up in store," or even purchasing in a store and returning online, companies are likely to continue to expand the availability of online options in order to attract consumers.
ETFs that offer targeted exposure to e-commerce include the Amplify Online Retail ETF (IBUY C+) and the First Trust S-Network E-Commerce ETF (ISHP C+). Both had a difficult year last year, one which Islam chalks up to a disenchantment on the side of investors that had been chasing the high-growth of e-commerce from early pandemic times.
"A lot of these companies are either tech stocks or at least tech-oriented and I think investors are also very cautious with these higher risk, growthier tech investments last year," Islam explained.
It's a trend that has turned around at least in the beginnings of this year, with IBUY up more than 20% YTD and ISHP up 11% YTD.
Other U.S. ETFs within e-commerce include the ProShares Online Retail ETF (ONLN B), the Global X E-commerce ETF (EBIZ B), the Goldman Sachs Future Consumer Equity ETF (GBUY C) and more, as well as a variety of overseas and emerging market e-commerce ETF options.
An Update From Grayscale
Grayscale is the largest digital asset manager globally and offers the Grayscale Bitcoin Trust (GBTC) with over $15 billion in AUM. Dave LaValle, global head of ETFs at Grayscale, gave an update on Grayscale's lawsuit against the SEC after it denied their filing to convert GBTC to a spot bitcoin trust last summer. The lawsuit is based on the premise that bitcoin futures funds have been approved under the 1940 Act and the logic that if the SEC is comfortable with the derivative product, they should also be comfortable with the underlying asset.
Grayscale and the SEC will appear before the courts on March 7, 2023 to give their oral arguments, explained LaValle, with a final decision likely in the fall of 2023 but potentially sooner.
"This is a case around our belief that the SEC denied our application, and in doing so, violated the Administrative Procedures Act," LaValle said, an act which ensures that government agencies treat like items alike. He went on to discuss the crypto market in the last year and if it has any potential implications on their case (he doesn't believe so), and questions regarding GBTC specifically.
---
Content continues below advertisement
Thematic Investing With Goldman Sachs
Goldman Sachs Asset Management has over $14 billion in AUM within thematic strategies. Marissa Ansell, lead client PM for thematic investing at GSAM, explained Goldman Sach's expansion into actively managed, thematic ETFs in 2021 that included five different funds.
Each ETF focuses on a specific theme and seeks out companies that are on the correct side of disruption and that have valuation opportunities looking ahead. The scope goes beyond just the U.S.: "we also think it's really important that these portfolios are global and we actively hunt for opportunities all around the world across both developed and emerging markets, and across the entire market cap spectrum."
Drops in both the market and stocks of companies that are particularly susceptible to inflation mean investors now have an opportunity to gain access to these long-term strategies at attractive prices. Ansell explained that GSAM sees strong opportunity looking ahead in companies that are further down the market cap spectrum as well as abroad. ETFs within the suite include GBUY, the Goldman Sachs Future Planet Equity ETF (GSFP B-), and the Goldman Sachs Future Real Estate and Infrastructure Equity ETF (GREI B-).
Listen to the entire ETF Prime conversation here: