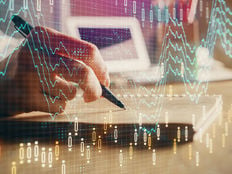 To go along with rising inflation, the Omicron variant just added an extra headwind for global growth, but the byproduct could be a boost to bonds on the long end of the yield curve.
According to a Financial Times article, the yield curve is starting to flatten — the spreads between the two-year and 10-year yields are starting to get closer together, reaching a gap of just 0.82 basis points. It's a shortened gap not seen since the beginning of the year as selling pressure on short-term bonds increases.
Federal Reserve chairman Jerome Powell didn't give any indication that the tapering of bond purchases will be put on the back burner amid the latest COVID variant. As such, the prospects of rate increases in 2022 remain.
"Short-dated bonds have come under renewed pressure globally since Federal Reserve chair Jay Powell on Tuesday indicated an openness to a faster reduction in the pace of asset purchases by the US central bank, potentially clearing the way for earlier rises in interest rates," the Financial Times says. "But while short-term debt has been hit by the prospect of tighter monetary policy, longer-dated bonds have rallied as the prospect of a further wave of coronavirus infections exacerbates concerns about the trajectory of the global economy."
Go Long With These Two ETFs
To capture the long-term bond rally, investors have a pair of options from Vanguard to consider. One such fund is the Vanguard Long-Term Corporate Bond Index Fund ETF Shares (VCLT A).
As per the fund description, VCLT seeks to track the performance of a market-weighted corporate bond index with a long-term dollar-weighted average maturity. The fund carries a low 0.05% expense ratio along with a 30-day SEC yield of 3.05%, as of December 1.
Furthermore, the fund employs an indexing investment approach designed to track the performance of the Bloomberg U.S. 10+ Year Corporate Bond Index. This index includes U.S. dollar-denominated, investment-grade, fixed-rate, taxable securities issued by industrial, utility, and financial companies, with maturities greater than 10 years. Under normal circumstances, at least 80% of the fund's assets will be invested in bonds included in the index.
Another option is the Vanguard Long-Term Bond Index Fund ETF Shares (BLV A-), which has a 30-day SEC yield of 2.55%, as of December 1. BLV seeks to track the performance of the Bloomberg U.S. Long Government/Credit Float Adjusted Index, which includes all medium and larger issues of U.S. government, investment-grade corporate, and investment-grade international dollar-denominated bonds that have maturities of greater than 10 years and are publicly issued.
For more news, information, and strategy, visit the Fixed Income Channel.
---
Content continues below advertisement