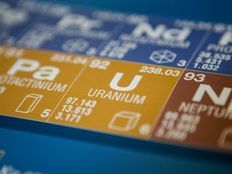 Gold/Silver/Critical Minerals Channel
Tailwinds were swiftly blowing behind the uranium markets during the month of January, according to a Sprott report. If the trend continues, consider getting exposure via ancillary services that support the uranium market, such as mining.
"January was a strong month for uranium markets, along with the broad equity and bond markets, but a mixed month for the commodity complex overall," the Sprott report noted. "The U3O8 uranium spot price rose from $48.31 to $50.75 per pound in January, a 5.05% increase, while uranium mining equities gained 14.65%."
"In 2022, the fundamentals for uranium and nuclear energy significantly strengthened and were bolstered by a continuous flow of endorsements from global governments," the report added. "Despite this, uranium mining equities were dragged down in 2022 by their systemic risk to the overall markets, not surprising given last year's bear market in which the S&P 500 Index fell 18.11%."
Shifting Investor Sentiment
Shifting investor sentiment is creating an environment for more strength ahead in the uranium mining industry. The wide expectation is that the U.S. Federal Reserve will eventually get inflation under control, producing a risk-on sentiment that contrasts with last year's risk-off.
"January marked a pivotal month in shifting investor sentiment and diminishing headwinds for equity markets, which supported the surge in uranium mining equities," the report said. "A combination of the 'January Effect', lessening fears that the U.S. economy is heading toward recession and declining inflation, buoyed markets. Markets began their move higher on January 6 when the December U.S. Jobs Report showed wage growth was below expectations, and indication that inflation pressures may be weakening."
Uranium presents an ideal inflation hedge, especially given that inflation could stay around for quite some time. The Fed realizes that getting inflation under control won't be an overnight phenomenon, so appreciating assets in time of relatively high consumer prices could help shield an investor's portfolio.
One way to get uranium exposure is not necessarily in the metal itself, but through miners as a backdoor play. For uranium mining exposure, consider the (URNM ), which tracks the North Shore Global Uranium Mining Index and invests in global firms that mine, develop, and produce uranium as well as those firms that hold physical uranium or uranium royalties. Selected firms devote at least 50% of assets to business operations tied to uranium.
Various holdings in different countries further lends itself to the diversification of the fund. The majority of the fund (as of January 31) is allocated into Canada, but it includes other countries, such as Kazakhstan, Australia, and the United States.
For more news, information, and analysis, visit the Gold/Silver/Critical Minerals Channel.
---
Content continues below advertisement