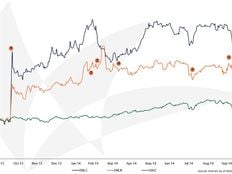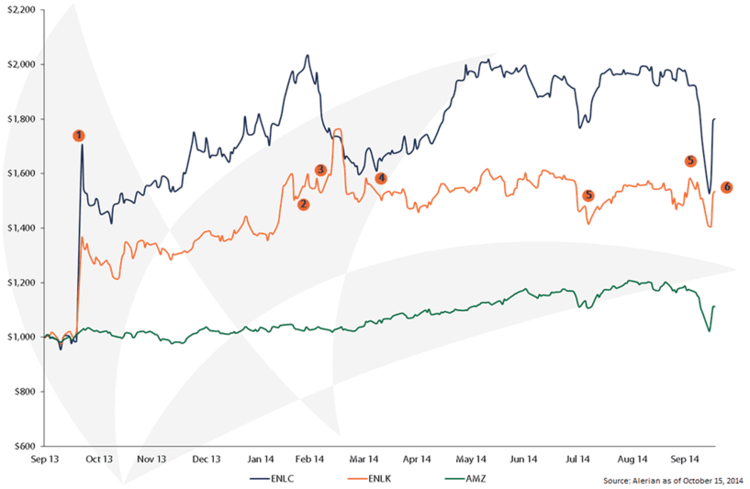 October 21, 2013.

Devon

Energy and Crosstex Energy to Create New Midstream Business

. The initial announcement is very positively received by the market. The combined gathering, processing, and transportation assets of the two companies will access many prolific plays in the US, including the Barnett, Permian, Haynesville, Woodford, Eagle Ford, Marcellus, and Utica. Devon is able to highlight the value of its midstream assets, maintain premier access to midstream infrastructure for its upstream business, and avoid going through the

IPO

process. For Crosstex, the structure of the transaction re-energizes the dropdown story that is so popular with

MLP

investors.



February 19, 2014.

Crosstex Energy Provides Preliminary 2014 Guidance for EnLink Midstream

. In advance of the release of guidance, investors bid up the price of

ENLK

on expectations of announced synergies and resultant increases to

EBITDA

. However, the numbers released by the company resemble those announced in October. Analysts are divided over whether or not the projections includes synergies, but the market is disappointed.



March 7, 2014.

Devon Energy and Crosstex Energy Complete Transaction to Create EnLink Midstream

. Neither

ENLK

nor

ELNC

see meaningful moves in their stock prices as the details of the transaction had already been fully disseminated to investors.

Efficient markets

at work!



April 2014. General partner

ENLC

outperforms limited partner

ENLK

by 7% during the month as investors expect the former to be better positioned to benefit from the deal over the long term. Analysts note that

ENLK

will hit the high splits in late 2014 or early 2015, and

ENLC

will take 50% of incremental distributions paid when that happens. Management targets

high-single-digit annualized distribution growth

at

ENLK

, which is expected to translate into 20% annualized distribution growth at

ENLC

.



July and October 2014. EnLink is not immune to the non-fundamental drivers of temporary price dislocations in MLPs and their affiliated securities. In July, quarterly

MLP

seasonality around ex-distribution dates collides with a small downturn in oil prices and resultant concerns about the broader energy sector. In October, fears of a sustained drop in oil prices roil

MLP

markets. EnLink and most other midstream MLPs rebound as investors view the mid-month drop as a buying opportunity.



To Date. The unit price of

ENLK

has not appreciably changed since the initial transaction announcement. Investors may still be waiting to see tangible impacts of the deal in earnings reports.
---
Content continues below advertisement