SPL was first announced on June 3, 2010. As an equity investor, it's not always easy to wait for years to pass and billions of dollars to be invested. Due to the incredible amount of time and capex necessary, along with contracting and regulatory risk, an investment in Cheniere has long been a speculative story with meaningful execution risk. The stock initially struggled, but bounced back and continues to soar higher as positive cash flow gets closer and closer.
---
Content continues below advertisement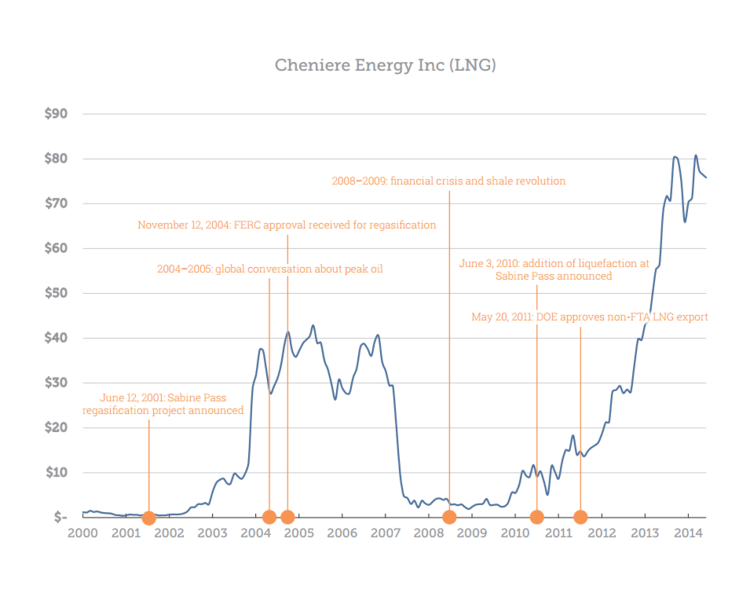 The foundation of Cheniere's business is long-term contracts. Of the total 40.5 mtpa expected by the end of the decade via nine combined SPL and CCL trains, 28 mtpa is already under 20-year contracts. By year end, Cheniere expects an additional 4 mtpa, or 80% of capacity, to be under third party contract .
But management has left the door open to trading activity, which it believes could add an additional 10%-25% of extrinsic value. So those hoping that positive cash flow at SPL means less volatility in the stock going forward may be disappointed.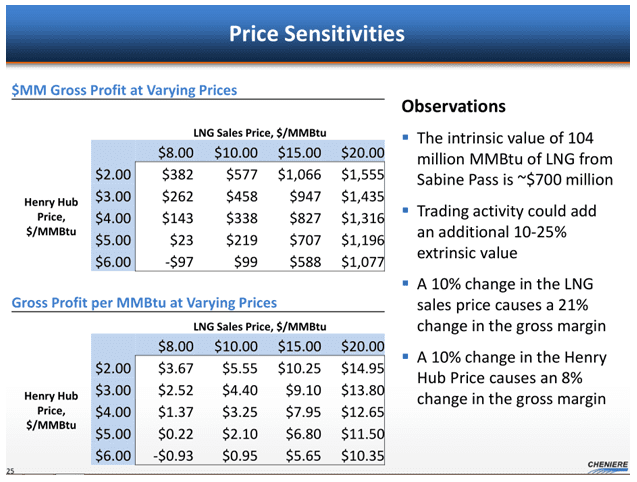 What will Cheniere do next? Management already hinted at vertical integration of upstream assets  and downstream marketing. That sounds about right for a company whose motto is, "There are no pure plays." Management also plans to expand beyond natural gas into other hydrocarbons. Permits have already been filed, and operations are expected to start in 2017 for condensate export.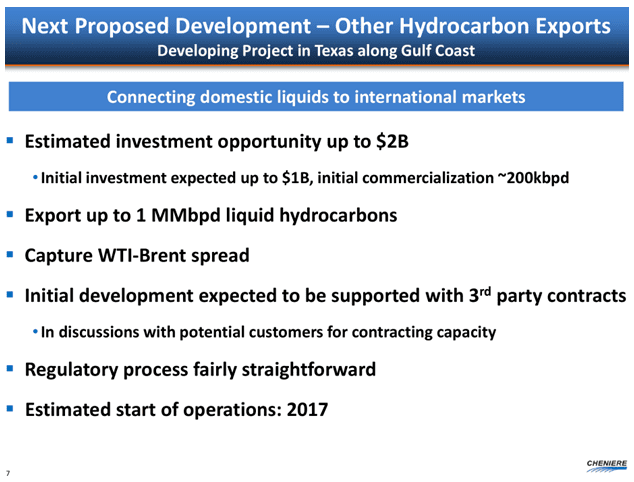 We've seen condensate export before. Enterprise Products Partners (EPD) received an affirmative ruling from the US Department of Commerce to that end in 2014. However, there are many other liquids besides condensate that could find a home in the world markets. Liquid petroleum gas (LPG) comes to mind. It's probably too early to dream about crude exports, but both Cheniere and EPD would be well positioned geographically with much of the infrastructure already in place, should we see that come to fruition.
Operational LNG export facilities have been a long time coming to the US. And while we still have to wait until later this year (or maybe 2016) for the first ships to sail, Cheniere is already focused on the future, planning for both commodity price changes and for projects beyond the humble methane.