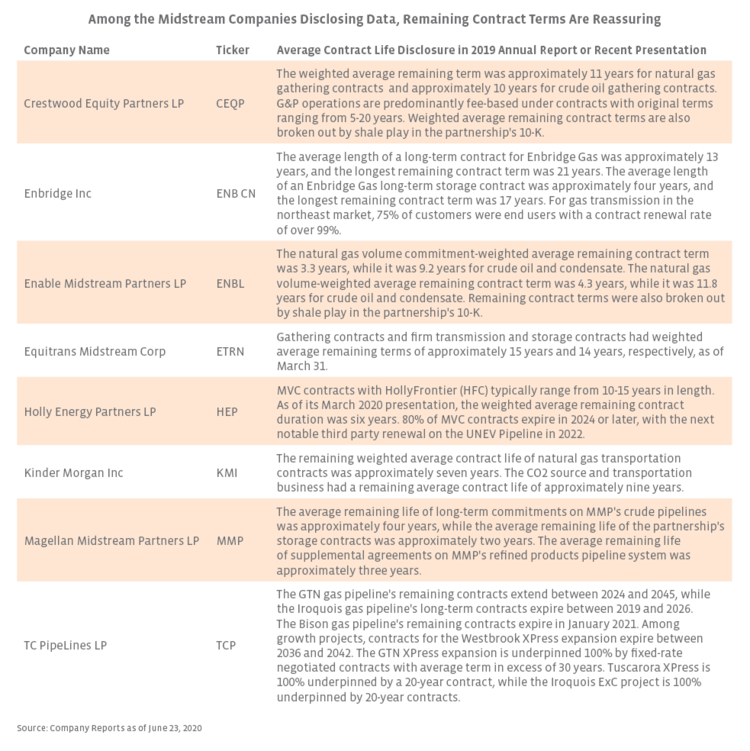 Recontracting risk remains in focus amid a tough environment.
Given today's less favorable market environment, contract profiles and renewals become even more important. Factors largely out of the control of midstream companies, such as the health of producer customers, the balance between production and pipeline capacity in a basin, and macroeconomic factors impacting commodity prices, can all influence recontracting risk. For contracts expiring in the next 12-18 months, the recontracting process is likely to be more difficult given slowing volumes and increased competition as a result of added pipeline capacity in some areas. New contracts may have lower rates than legacy contracts given increased competition and other market pressures.
Outside of contract expirations, customers may proactively try to renegotiate rates in a lower commodity price environment if under stress. This can happen with third-party customers or when a midstream company is servicing a producer parent. In these cases, midstream rates are typically adjusted with terms extended, or the midstream provider is made whole with a lump-sum cash payment. In some examples from the 2014-2016 downturn, the renegotiated contracts maintained the same net present value of cash flows. More recently, recontracting agreements announced by TC Energy (TRP CN), EQM Midstream (EQM), and Antero Midstream (AM) serve as examples of midstream companies and their customers reaching mutually beneficial agreements, with EQM and AM offering fee reductions in exchange for extended contract durations and increased volume commitments over time.
A handful of companies discussed upcoming contract expirations in their 2019 annual reports. EnLink Midstream (ENLC) said its five-year MVC with Devon Energy (DVN) for the Chisholm gas processing facility in the STACK will expire in December 2020. The contract is expected to generate $60 million in shortfall revenue at the midpoint in 2020 as volumes have been below the MVC levels. TC PipeLines (TCP) said the Wyoming-to-North-Dakota Bison natural gas pipeline is expected to be about 40% contracted on a ship-or-pay basis in 2020, in line with 2019 levels. With the remaining long-term contracts on the pipeline expiring in January 2021, TCP is exploring alternatives, including reversing the pipeline to transport associated natural gas from the Bakken. Shell Midstream Partners (SHLX) was able to recontract volumes on its Zydeco crude pipeline system under throughput and deficiency agreements containing minimum volume requirements following an open season in 2Q19, but the rates of the new contracts are lower than before. SHLX noted that the market backdrop determined the rates, terms, and time period of the agreements. Two Zydeco contracts will expire in 4Q20 but have a shipper option to extend the term by six months. These examples described in annual reports demonstrate that midstream companies are focused on finding practical solutions to mitigate recontracting issues.
Midstream company disclosures on long-term contracts need improvement.
In compiling the data for this report, it's clear that more can be done by midstream companies to continue to increase transparency for investors. While some companies provide detailed contract information, overall disclosure of contract data within midstream is lacking, including details around contract life. CEQP notably included a summary table of its gathering and processing operations with major customers, weighted average remaining contract term, and types of contracts (see below). MVC data was also inconsistent and vague where available, with most companies selectively providing percent exposure to MVCs broadly, for a specific business line, or for occasional projects. While recognizing that some data may be withheld for competitive purposes, additional detail around contract life and built-in protections would provide investors with improved means to evaluate individual companies effectively and better gauge risks. Greater transparency could also provide some assurance around the stable nature of cash flows related to long-term contracts for most midstream assets.
---
Content continues below advertisement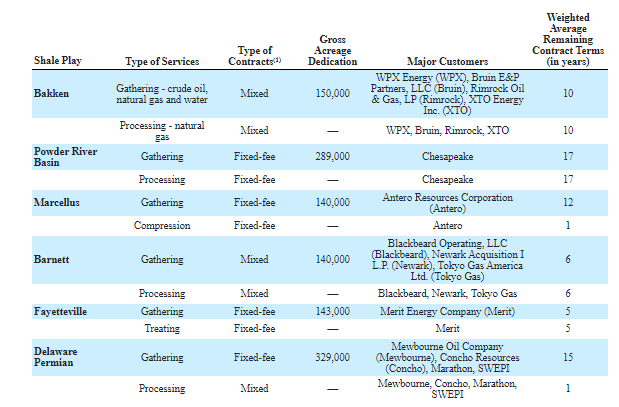 Source: CEQP 2019 Annual Report
Bottom Line
With production declining, MVCs provide the first line of defense in ensuring some cash flow stability for midstream, but long-term contracts with protections eventually expire. Declining volumes and increased competition in some basins could exacerbate recontracting risk for companies that have contracts lapsing over the next several months. However, the staggered nature of contracts, even for a single asset, helps keep recontracting risk manageable.