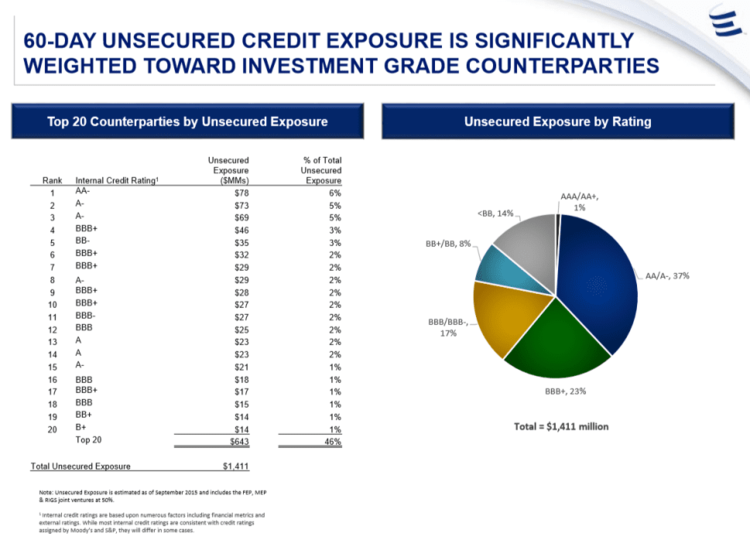 Investor concern #2: "Rig counts are falling, capex is coming down, I assume production is coming down too. Doesn't that mean there's less 'tolls' for the toll-road business model?"
Alerian: Producers continue to high-grade, so we're seeing higher efficiencies despite lower rig counts. Some areas continue to see volume growth, whereas some aren't. However, when comparing on a full year basis, we'll likely see higher year-over-year production.
Energy Transfer: Across all of their systems, Energy Transfer is expecting 30%+ year-over-year (normalized for acquisitions) growth in natural gas gathering volumes. While natural gas production is challenged in certain areas such as the Mid-Continent, in other areas, gathering volumes continue to increase such as the Eagle Ford and the Delaware Basin in the Permian.
---
Content continues below advertisement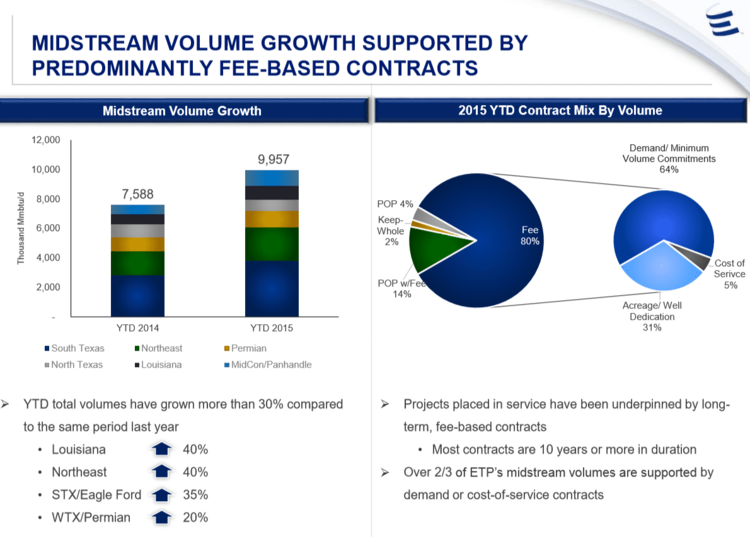 Investor concern #3: "What does capital access look like for MLPs? How will MLPs fund their growth programs if equity markets stay where they are?"
Alerian: Unlike the previous commodity downturn in 2007-2008, which coincided with the financial crisis, MLPs still have access to capital, especially investment-grade MLPs. We've seen some relief in the equity markets the past few weeks with two successful follow-on offerings. At current valuations, we expect MLPs will seek alternative sources of financing.
Energy Transfer: After the transaction with Sunoco LP (SUN) announced earlier in the week, fears on capital funding for 2016 have somewhat subsided. With $2.2 billion from the transaction, an additional $1.75 billion in debt, roughly $100-150 million from the company DRIP program, expectations for roughly $150 million per quarter from its at-the-market (ATM) program, and the potential sale of non-core assets, the company has most of the financing for its $4.95 billion capital program lined up.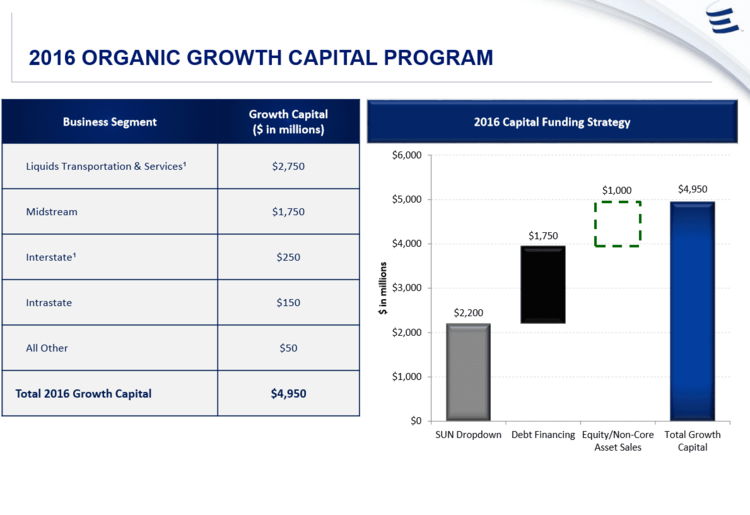 Over the past 18 months, if we were to only look at the equity prices of midstream MLPs, it would seem a story of doom and gloom. It's important to keep in mind that unit prices include "guilt by association" fears and investor psychology. Looking at the cash flows, growth projects, and distribution profile of MLPs mitigates that and lets you focus on what's actually happening. Hearing these things straight from the horse's mouth at the Energy Transfer family analyst day was a refreshing break away from my equity monitor screen, even if I didn't get to try "tacos that were on par with Chipotle."