Investing in Water: Water Brings the Heat in a Defensive Summer

Water has received attention as an ESG investment, but recent returns have demonstrated that the sector has benefited from renewed interest in defensive sector investing and infrastructure modernization.
As highlighted in a previous note, defensive sectors like utilities and consumer staples are strengthening this summer as several economic indicators point to decelerating economic growth coupled with a level of economic uncertainty due to the Delta variant. A large portion of the companies in the water segment are water utility companies, which are highly regulated and receive a relatively stable revenue stream throughout the economic cycle—particularly in residential and municipal sectors. Many of these services are regulated by public utility commissions (PUCs). In most cases, PUCs set rates which allow utility companies to recover the cost of service plus a return on net investments. Additionally, some PUCs in states like California, Illinois, and New York have adopted revenue stability mechanisms which allow water utility companies to collect stable revenue regardless of demand/volume, which is especially important given ESG interest (American Water Works Company, Inc. Form 10-K (sec.gov)). Revenue stability mechanisms help alleviate the conflict of interest between environmental water conservation and water company profits (i.e., encouraging reduced water consumption without hurting water utility sales). The chart below uses Consumer Price Index (CPI) data to illustrate how water/sewer rates have increased at a stable rate relative to other costs, even throughout the recent COVID-19 pandemic.(CPI Home : U.S. Bureau of Labor Statistics (bls.gov)
---
Content continues below advertisement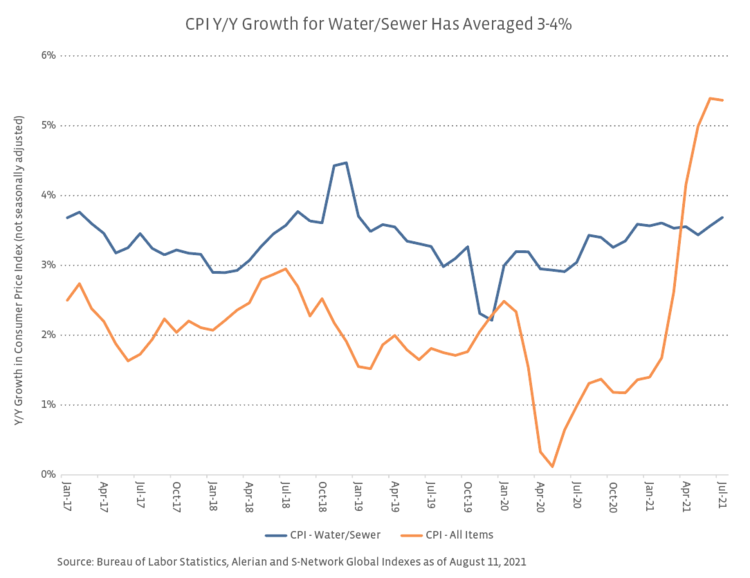 Other water businesses are classified as infrastructure companies, which may benefit from the U.S. infrastructure bill and the subsequent growth potential of the domestic water market. $55 billion will be invested in providing clean drinking water including replacing lead pipes and service lines (FACT SHEET: Historic Bipartisan Infrastructure Deal | The White House). This represents the largest federal investment in clean drinking water in the history of the U.S. From a global perspective, many countries—particularly in emerging markets—have also been modernizing their water infrastructure as population growth and urbanization trends accelerate. See this note for more details on global infrastructure.
Investors can track the performance of the water industry through the S-Network Global Water Index (JGI), which provides a global view of the sector with a 51% weighting toward domestic stocks. The index has a defensive tilt with 50% of its constituents in the utilities sector, followed by 35% in the industrials sector, and 9% in the materials sector. The index has been achieving a 30-day total return over 3% while many other sectors (i.e., high growth technology sectors) are feeling some of the effects from overall market weakness (see table on the following page). While stable long-term returns are typically the biggest investment case for water, it is evident that short-term returns could make this sector more attractive to a wider investment audience.