Together with our President and CEO, Kenny Feng, I attended the second day of analyst days for the Energy Transfer family of companies. Sunoco LP (SUN) presented for an hour, then a break, then Energy Transfer Partners (ETP) for two hours, then lunch, then a presentation on Lake Charles LNG, and finally, Energy Transfer Equity (ETE). While informative, it sounds like Emily and Karyl had better food.
Download SUN's presentation here.

SUN is part of the Transfer family's Retail Marketing Segment. Just to make sure we're all on the same page, remember that SUN is the company formerly known as Susser Petroleum Partners (SUSP), whose GP was acquired by ETP in 2014. Not to be confused with Sunoco Inc, the Philadelphia-based refining and marketing company that ETP bought back in 2012 and traded on the NYSE under the SUN ticker for 87 years. Also not to be confused with Sunoco Logistics Partners (SXL), the much larger petroleum transportation and storage partnership that became part of the Transfer family in the same 2012 transaction. Maybe this org chart will help: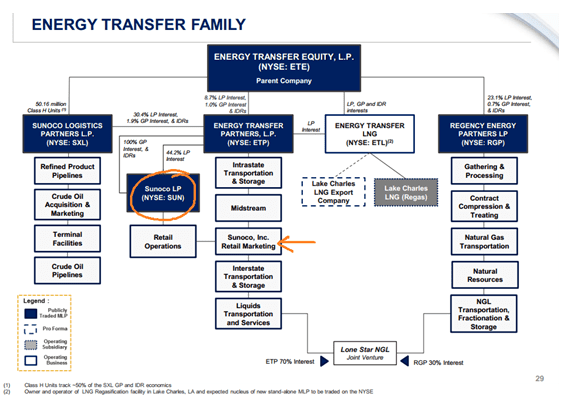 ---
Content continues below advertisement
---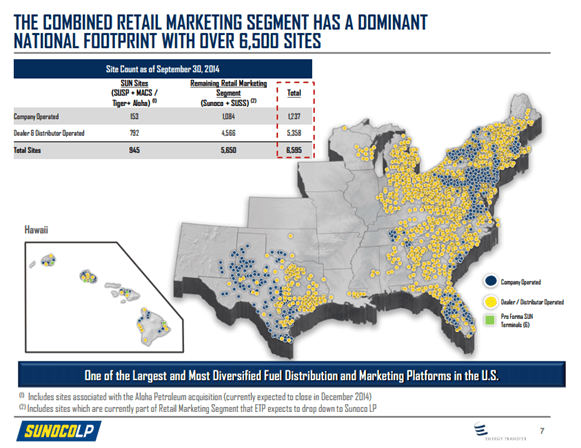 Minus those of you that live in super cool cities with robust mass transit systems, Americans drive cars, which means we regularly stop for gasoline, a fungible commodity sold at filling stations with
prices posted on giant signs that allow us to make a purchase decision before pulling in. Attached to these stations are a much higher margin business:
convenience stores, which sell more than $200 billion in merchandise annually.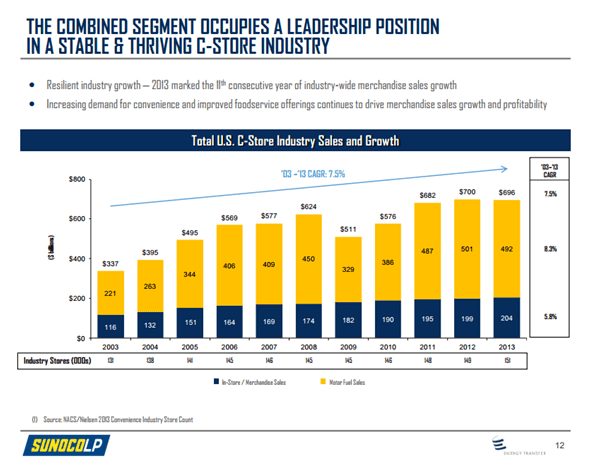 There were some audience questions about the impact of urbanization and
CAFE standards. Management's reply was that in past years, despite the development of increasingly fuel efficient vehicles and electric vehicles,
demand for gasoline has not appreciably changed. Millennials are treating cars differently than previous generations, but the
Ford F-150 pickup truck is still the best selling vehicle in Texas. Given expectations for continued recovery of the US economy, management believes the industry will see organic growth for at least the next 20-30 years. Specifically for SUN, management is also looking to
acquisitions as another growth driver.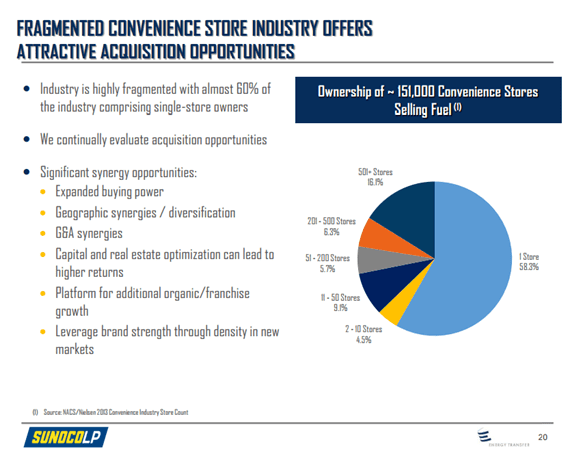 At this point, you may be wondering why we're talking so much about gas stations and convenience stores. After all, in order to be an MLP, 90% or more of your income must come from qualifying sources. Delivering energy to the end consumer is most definitely
not qualifying. But here's the thing: it's only those last few feet that don't qualify: from the pump, down the hose, and into your car.

So SUN has placed its operations that generate non-qualifying income into a tax-paying subsidiary called Propco. This means that revenue generated from those last few feet of hose are in Propco, as are any sales of tacos,
soda pop, and other merchandise. After exhausting its deductions, Propco will pay taxes and
dividend the remaining income up to SUN.
I'll leave you with a final fun fact: Sunoco is the
official fuel of NASCAR
. And major props to management for not playing
Here Comes the Sun 
during the presentation. I wouldn't have been able to avoid the pun.